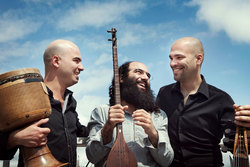 David Dalle
Thursday January 23rd, 2014 with David Dalle
The Musical Voyages of Marco Polo
Greek composer Kyriakos Kalaitzidis has been inspired since reading of Marco Polo's grand travels from Venice through modern-day Turkey, Iran, Afghanistan, Uzbekistan, Tadjikistan, China, Burma and back, to portray such a voyage musically. He has created this musical journey with the help of many musicians including his ensemble En Chordais and Canada's Ensemble Constantinople featuring a wide range of musical backgrounds from Greece, Iran, Italy, India, China, Mongolia, Uzbekistan. We will also hear music from master Wu Man and her gorgeous collaborations with Uyghur and Tajik musicians as well as other music from Xinjiang and Central Asia including Nodira Pirmatova, Uzbek singer and instrumentalist who also appears on Kyriakos Kalaidzidis' new album.
Marco's Dream
Kyriakos Kalaidzidis, En Chordais, Ensemble Constantinople - The Musical Voyages of Marco Polo - World Village/Harmonia Mundi


Gallop
Kyriakos Kalaidzidis, En Chordais, Ensemble Constantinople - The Musical Voyages of Marco Polo - World Village/Harmonia Mundi


Lamento di Tristano
Kyriakos Kalaidzidis, En Chordais, Ensemble Constantinople - The Musical Voyages of Marco Polo - World Village/Harmonia Mundi


The Golden Sheaf of Time
Kyriakos Kalaidzidis, En Chordais, Ensemble Constantinople - The Musical Voyages of Marco Polo - World Village/Harmonia Mundi


Jeopardy
Kyriakos Kalaidzidis, En Chordais, Ensemble Constantinople - The Musical Voyages of Marco Polo - World Village/Harmonia Mundi


Migrants Circle
Kyriakos Kalaidzidis, En Chordais, Ensemble Constantinople - The Musical Voyages of Marco Polo - World Village/Harmonia Mundi


In Xanadu
Kyriakos Kalaidzidis, En Chordais, Ensemble Constantinople - The Musical Voyages of Marco Polo - World Village/Harmonia Mundi


Ey Dilbari Jononim
Kyriakos Kalaidzidis, En Chordais, Ensemble Constantinople - The Musical Voyages of Marco Polo - World Village/Harmonia Mundi


Five Steps
Kyriakos Kalaidzidis, En Chordais, Ensemble Constantinople - The Musical Voyages of Marco Polo - World Village/Harmonia Mundi


Chandmani Nutag
Kyriakos Kalaidzidis, En Chordais, Ensemble Constantinople - The Musical Voyages of Marco Polo - World Village/Harmonia Mundi


Yi Zu Wu Qu
Kyriakos Kalaidzidis, En Chordais, Ensemble Constantinople - The Musical Voyages of Marco Polo - World Village/Harmonia Mundi


The Stranger
Kyriakos Kalaidzidis, En Chordais, Ensemble Constantinople - The Musical Voyages of Marco Polo - World Village/Harmonia Mundi


Holy Oil
Kyriakos Kalaidzidis, En Chordais, Ensemble Constantinople - The Musical Voyages of Marco Polo - World Village/Harmonia Mundi


The Musical Voyages of Marco Polo
Kyriakos Kalaidzidis, En Chordais, Ensemble Constantinople - The Musical Voyages of Marco Polo - World Village/Harmonia Mundi


Improvisation for Three and a Half Instruments
Wu Man, Abduvali Abdurashidov, Sirjiddin Juraeve - Music of Central Asia Vol. 10 Borderlands - Smithsonian Folkways
Galdir
Nodira Pirmatova - Music of Central Asia Vol. 7 In the Shrine of the Heart - Smithsonian Folkways
Kazakh Song
Wu Man - Music of Central Asia Vol. 10 Borderlands - Smithsonian Folkways
Song of Consonance
Lu Pei/Yang Wei, Betti Xiang, Amelia Piano Trio - Song of Consonance - Traditional Crossroads
Hanleylun
Wu Man, Sanubar Tursun, Hesenjan Tursun - Music of Central Asia Vol. 10 Borderlands - Smithsonian Folkways
Charigah
Abdulla Majnun, Yasin Yakup - Music of Central Asia Vol. 10 Borderlands - Smithsonian Folkways