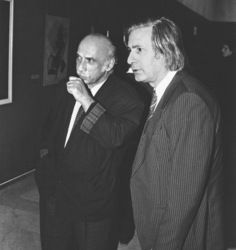 David Dalle
Thursday February 13th, 2014 with David Dalle
Ottawa Symphony Orchestra's upcoming concert with Giya Kancheli
Today we look at a remarkably bold concert being given by the Ottawa Symphony Orchestra this coming Monday. Entitled "The Thread of Life", it presents three pieces which meditate very expressively on death: Richard Strauss' Death and Transfiguration for orchestra, Franz Liszt's Totentanz for piano and orchestra, and Giya Kancheli's Styx for viola, choir, and orchestra. Though I love both the Strauss and Liszt, it is the piece by Kancheli which most interests me in this concert. To be honest, this is a very bold programming choice for a Canadian orchestra, you would not expect the opportunity to see a piece like this live outside of Germany, Austria, or other European musical capitals. Alfred Schnittke, Giya Kancheli's friend, colleague, and near contemporary (b. 1934, Kancheli b. 1935) died in 1998 after suffering the final, fatal stroke after a series of them. Kancheli was already thinking of composing a work for viola and orchestra, and after Schnittke's death, focused the work on a farewell for Schnittke. The result was Styx, a tremendous work for solo viola, orchestra and choir. The river Styx in Greek mythology was the border between the living and the dead, and Charon was the ferryman who transported the souls across. In this great work, the viola acts as Charon mediating between the living and the dead, the orchestra and the chorus. The chorus sings of specific memories, lullabies, places, and poets of Georgia as well as intoning Schnittke. The Ottawa Symphony Orchestra concert is on Monday Feb 17 at the NAC with Canadian violist Paul Casey and Canadian pianist David Jalbert. A must see!
http://www.ottawasymphony.com/thread_life_eng.html
We start in Mali however, with Habib Koite recorded live at the Festival au desert in 2012. He will be in Toronto tomorrow night at the Mod Club Theatre, in Montreal Saturday night at l'Astral, hopefully a few lucky listeners will be able to catch the show! More information at smallworldmusic.com and http://www.sallelastral.com/astral/concert-en.aspx?idConcert=1163
Wari
Habib Koite - Festival au desert - Timbuktu
N'Teri
Rokia Traore - Beautiful Africa - Nonesuch
La paix
Sidi Toure - Alafia - Thrill Jockey
M'Ftah
Amida Boussou - Gnawa Leila - Al Sur
Styx for viola, choir, and orchestra
Giya Kancheli/Maxim Rysanov, Kamer choir, Liepaja Symphony Orchestra, Maris Sirmais - Kancheli/Tavener - Onyx
Sadats Vshobilvar
Trio Kavkasia - The Fox and the Lion - Traditional Crossroads
Orovela
The Tsinandali Choir - Table Songs of Georgia - Realworld
Alilo
Trio Kavkasia - The Fox and the Lion - Traditional Crossroads