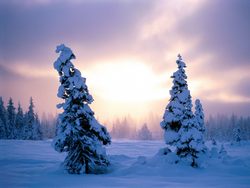 David Dalle
Thursday December 26th, 2013 with David Dalle
Winter Recomposed, music from Tanzania, Kenya, Burkina Faso, Mali and more
Today we conclude my seasonal look at Vivaldi Recomposed by composer Max Richter with the Winter concerto. As with the previous concertos, we'll precede the contemporary re-working with the original.
Concerto RV 297 'L'inverno'
Antonio Vivaldi/Fabio Biondi, Europa Galante - Il cimento dell'armonia e dell'inventione - Virgin
Winter
Max Richter/Daniel Hope, Konzerthaus Kammerorchester Berlin, Andre de Ridder - Recomposed By Max Richter: Vivaldi The Four Seasons - Deutsche Grammophon
In domum Domini ibimus
Franz Liszt/Laszlo Fassang - Male Choruses II - BMC
Pax vobiscum
Franz Liszt/Saint Ephraim Male Choir, Tamas Bubno - Male Choruses II - BMC
U sipolcru
A Filetta, Paolo Fresu, Daniele di Bonaventura - Mistico Mediterraneo - ECM
Conte de l'incroyable amour
Anouar Brahem, Barbaros Erkose, Kudsi Erguner, Lassad Hosni - Conte de l'incroyable amour - ECM
Le songe
Wassim Soubra - Sonates orientales - Institut du Monde Arabe
ECM has finally released the full Bregenz and Munich live recordings by Keith Jarrett from 1981 on CD. Only Bregenz has been released on CD before. We will be hearing the Munich concert in the new year.
Munchenm, Heartland
Keith Jarrett - Concerts Bregenz, Munchen - ECM

My sister is currently in Tanzania, so thinking enviously of her, heating up the show with some terrific Tanzanian and Kenyan music.
Penzi Lauwa
Remmy Ongala & Orchestre Super Matimila - Sema - Realworld
Naleki Na Ba Zone
Orchestra Super Mazembe - Mazembe@45RPM - Sterns
Mume Wangu
Orchestra Makassy - Legends of East Africa - ARC
Touma
Debademba - Souleymane - World Village

Dianamo
Debademba - Souleymane - World Village

Gandyey
Sidi Toure - Alafia - Thrill Jockey

Wongharey
Tal National - Kaani - FatCat Records
Gaffou
Salif Keita - La Difference - Universal