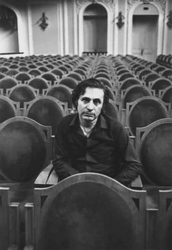 David Dalle
Thursday December 19th, 2013 with David Dalle
From Darkness to Light; Schnittke's 9th symphony
From Darkness to Light. My annual show around the winter solstice (usually Dec 21 in Canada), the shortest day of the year--the darkest time of the year. Historically, many cultures held celebrations or festivities around this time, to rage against the darkness, Christmas having become the most dominant one. In today's show we experience a musical journey from Darkness to Light, exemplified in two great works by Alfred Schnittke. Schnittke's final symphony was composed in 1996, 2 years before his death in 1998, but 2 years after his most debilitating stroke yet which left his right side of his body paralyzed. The right-handed Schnittke composed this symphony with extreme difficulty using his left hand. People who were close to him described how difficult it was for him to write, yet there was an urgency to it, Schnittke has a burning need to complete this work. After his death, his widow Irina was left in possession of a nearly indecipherable manuscript, the symphony was 'complete', yet the manuscript needed to be deciphered and written into a fair copy which could be published and performed. So Irina Schnittke found herself in the same position as other famous composer's widows like Alma Mahler (with his 10th symphony) and Constanze Mozart (with his Requiem). Irina originally tasked Russian-Canadian composer Nikolai Korndorf, a friend and colleague of Schnittke, to complete it after Schnittke's death, but sadly Korndorf developed a brain tumour and died in 2001. So Irina hired Russian composer Alexander Raskatov to complete it, which he did in 2006. The 9th symphony is in 3 movements, each one succesively quicker, moving from a long andante to moderato to presto. According to Irina, Schnittke "considered his Ninth Symphony to be a work apart and completely dissimilar to his preceding symphonies". It is not unrelentingly dark like his 6th symphony, there are moments of warmth and colour, rich and violent brass, but the overall mood is of haunting otherworldy ambiguity, the final words of a dying man which are muted and can't quite be heard. For the transformation to light, we will hear Schnittke's exquisite Epilogue to his ballet Peer Gynt in his 1992 transcription for piano, cello, and tape. From the tape, we hear a pre-recorded choir which singing this 'eternal' D major with the cello and piano in the foreground covering a drastic range of moods with a particularly impassioned lament on the cello before the cello ascends and eventually dissolves into the eternal D major...a gorgeous, transcendent and luminous end.
Symphony No. 9
Alfred Schnittke/Dresdner Philharmonie, Dennis Russell Davies - Symphony No. 9 - ECM
Epilogue from the ballet Peer Gynt for cello, piano, and tape
Alfred Schnittke/Alexander Ivashkin, Irina Schnittke - Complete Works for Cello and Piano - Chandos
Zivot Cigana
Boban & Marko Markovic Orkestar - Gipsy Manifesto - Piranha
Dikhel Khelel
Taraf de Haidouks & Kocani Orkestar - Band of Gypsies2 - Crammed
Raichand
Barmer Boys - At Home - Amarrass Records
Bania Irene
Tabu Ley Rochereau & Afrisa International - Muzina - Rounder
Okova
Orchestra Super Mazembe - Mazembe@45RPM - Sterns
Sankaran Ka
Balla et ses Balladins - The Syliphone Years - Sterns