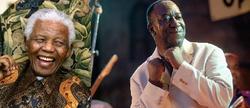 David Dalle
Thursday December 12th, 2013 with David Dalle
Celebrating two great Africans: Nelson Mandela and Tabu Ley Rochereau
Celebrating the lives of two great Africans who passed away recently: Nelson Mandela, a great pillar of politics and morality; Tabu Ley Rochereau, a great pillar in African music. In their respective fields of politics, morality, and music, they towered over Africa and the world. Tabu Ley in a nearly 60 year musical career was the key figure in the development of Congolese Soukous making it THE Pan-African popular music and its popularity spread internationally, particularly in Paris. Tabu Ley possessed the sweetest singing voice in African music. Many other popular African musicians grew out of his famous bands African Fiesta National and Orchestre Afrisa International such as Sam Mangwana and Papa Wemba. I had the tremendous fortune of seeing Tabu Ley live in Ottawa in the mid 90's, one of the best African concerts I have attended. Celebrate the lives of these two superlative individuals with Tabu Ley's music and a wide selection of South African music.
Nkosi Sikelel Africa
Alexandra Youth Choir - South African Choral - Naxos
Tula Ndivile
The Manhattan Brothers feat. Mariam Makeba - The Very Best of the Manhattan Brothers - Stern's
Thaba Tseu
The Manhattan Brothers - The Very Best of the Manhattan Brothers - Stern's
Amaqwati
Blues Ntaka and the Daveyton Choir - Ancient Civilisations of Southern Africa - Arc
Gumboot 1993
Blanket Mkhize, Ngangabanye Zondi, Stephen Shelembe - Gumboot Guitar - Topic
Kelaola Hohle
Maphutseng - Best of Contemporary Sotho Folk Music - Arc
Sobabamba
Udokotela Shange Namajaha - The Indestructible Beat of Soweto vol. 1 - Earthworks
Sengikala Ngiyabaleka
Mahlathini and the Mahotella Queens - Thokozile - Earthworks
Minawa
Hugh Masekela, Dudu Phukwana, Larry Willis, Makhaya Ntshoko, Eddie Gomez - Home Is Where the Music Is - Blue Thumb
African Piano
Abdullah Ibrahim - African Dawn - Enja
Mra
Chris McGregor and the South African Exiles' Thunderbolt - Chris McGregor and the South African Exiles' Thunderbolt - Popular African Music
Kaful Mayay
Tabu Ley Rochereau & Afrisa International - Kaful Mayay - Syllart
Loyenghe
Tabu Ley Rochereau & Afrisa International feat. M'bilia Bel - Tabu Ley - Shanachie
Laissez-nous tranquilles
Franco et le TPOK Jazz - Les Rumeurs - Sonodisc
Tabu Ley and Franco were both from the same generation, born in 1937 and 1938 respectively, however they were long time public rivals as the two largest stars of Congolese music and Soukous. But here we hear Tabu Ley's and Patience Dabany's gorgeous 1994 tribute to the late Franco (died in 1989).
Sango Ya Mawa
Patience Dabany feat. Tabu Ley Rochereau - Patience Dabany - EMI
Imaculee
Tabu Ley Rochereau & Afrisa International - Muzina - Rounder