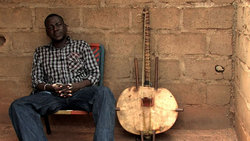 David Dalle
Thursday December 5th, 2013 with David Dalle
Live recording of Madou Sidiki Diabaté, Benjamin Britten's 2nd string quartet, and more
Today we hear a solo concert given by Kora player Madou Sidiki Diabaté given in New Delhi at the Amarass Desert Music Festival in 2011. Along with his older brother, Toumani Diabaté, he is heir to a great lineage of Djelis from Mali, claimed in their oral history to go back an astonishing 71 generations! This exquisite performance showcases the range of emotion and polyphonic depth possible with the Kora. A wonderful performance! We also celebrate the centenary of English composer Benjamin Britten (b. Nov 22 1913) with his 2nd String Quartet. This work was composed in late 1945 after a July tour of Germany accompanying Yehudi Menuhin where they played for concentration camp survivors, they visited the recently liberated Bergen-Belsen concentration camp. This had an enormous effect on him and he never talked about it until near the end of his life where he admitted to his partner, tenor Peter Pears that it had coloured everything he had written since. The most immediate work was the 2nd string quartet, though with overt reference as a tribute to to 17th century English composer Henry Purcell in its form, particularly the 3rd movement "Chacony", the work is a very stark, emotionally intense and dramatic work. Though Britten only composed three string quartets, the 2nd marks them as masterpieces in the tradition.
Kaira
Madou Sidiki Diabate - Live in India at the Amarrass Desert Music Festival - Amarrass Records
Famadenke
Madou Sidiki Diabate - Live in India at the Amarrass Desert Music Festival - Amarrass Records
Sara Kantigui
Madou Sidiki Diabate - Live in India at the Amarrass Desert Music Festival - Amarrass Records
Kana Kassi
Madou Sidiki Diabate - Live in India at the Amarrass Desert Music Festival - Amarrass Records
Bajuru Ba
Madou Sidiki Diabate - Live in India at the Amarrass Desert Music Festival - Amarrass Records
String Quartet no. 2 in C Op. 36
Benjamin Britten/Maggini String Quartet - String Quartets vol. 1 - Naxos
Chelos de Oro
Marino De Rosas - Meridies - Amiata
Gloria
A Filetta, Paolo Fresu, Daniele di Bonaventura - Mistico Mediterraneo - ECM
Corale
Paolo Fresu, Daniele di Bonaventura - Mistico Mediterraneo - ECM
Od Hana Do Kana
Boban & Marko Markovic Orkestar - Gipsy Manifesto - Piranha

Azmari
Mulatu Astatke - Sketches of Ethiopia - Jazz Village