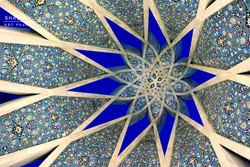 David Dalle
Thursday September 26th, 2013 with David dalle
Vivaldi Recomposed: Fall; music from Iran; L. Subramaniam
Today we continue my seasonal look at Vivaldi Recomposed by composer Max Richter with the Fall concerto. As with Spring and Summer, we'll precede the contemporary re-working with the original. We also hear some rare, older recordings from Neyshaboor in Khorasan, Iran with singer Chaharomin Djashnvareh Mousiqi Fajr.
Unknown songs
Chaharomin Djashnvareh Mousiqi Fajr - Folk Song - Neyshabur - Pars
Concerto RV 293 'L'autunno'
Antonio Vivaldi/Fabio Biondi, Europa Galante - Il cimento dell'armonia e dell'inventione - Virgin
Autumn
Max Richter/Daniel Hope, Konzerthaus Kammerorchester Berlin, Andre de Ridder - Recomposed By Max Richter: Vivaldi The Four Seasons - Deutsche Grammophon
L. Subramaniam will be performing only one stop in Canada this year, this Saturday evening in Montreal. For more information:
http://centrekabir.com/ck/en/ckcd31d33.html
Raga Gourimanohari: Ragam-Tanam-Pallavi
L. Subramaniam, L. Ambi Subramaniam, Mahesh Krishnamurthy, Satish Pathakota - Freer Sackler Concert Series - Smithsonian
Udri Mile
Boban i Marko Markovic Orkestar - Devla - Piranha