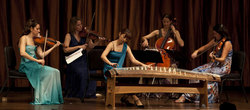 David Dalle
Thursday October 3rd, 2013 with David Dalle
Persian and Japanese music live at the Smithsonian with Bahman Panahi, Yumi Kurosawa
Despite the government shutdown in the US, we will be listening to a couple of concerts recorded live at the Smithsonian Institute Freer/Sackler Museums of Asian art. Bahman Panahi is a multi-talented Iranian artist in both Persian music and calligraphy. He studied with the great Ostad Mohammad Reza Lotfi and follows the same intensely emotional and spontaneous performance style of his master. Like Ostad Lotfi, he plays the setar, an instrument with a long association to Sufi mysticism and he sings as well. But as with Ostad Lotfi, his singing seems to rise spontaneously as a reaction to the passionate music. Yumi Kurosawa plays the Koto, a very old Japanese instrument, migrating from China in the 8th century. In this concert she performs works composed by herself, by Kengyo Yatsuhashi, a 17th century Koto musician and composer who was very influential in the development of the instrument and repertoire, and by American Daron Hagen, his chamber concerto for Koto and string orchestra or quartet. In this concert she performs it with the Lark String Quartet.
Midare
Kengyo Yatsuhashi/Yumi Kurosawa - Freer Sackler Concert Series - Smithsonian
GreenPt
Yumi Kurosawa - Freer Sackler Concert Series - Smithsonian
Genji, concerto for string quartet and koto
Daron Hagen/Yumi Kurosawa, The Lark Quartet - Freer Sackler Concert Series - Smithsonian
Burning
Kodo - Akatsuki - Otodaiku
Echoes from the Andes
Isao Tomita/Kodo - Nasca Fantasy - Sony
Pandillero
Anonymous - Kingdom of the Sun: The Inca Heritage - Nonesuch
Viva Jujuy
Los Chiriguanos - Gurani Songs & Dances - Nonesuch
Al Vaiven De Mi Carreta
Sierra Maestra - Son: Soul of a Nation - World Music Network
Tabu
Chucho Valdes & The Afro-Cuban Messengers - Border Free - Jazz Village

View From Pluto
Constantine Caravassilis/Christina Petrowska Quilico - Visions - Centredisques

Dastgah Avaz-e Esfahan
Bahman Panahi & Ali Mojallal - Freer Sackler Concert Series - Smithsonian
The Wind: X
Kayhan Kalhor & Erdal Erzincan with Ulas Ozdemir - The Wind - ECM