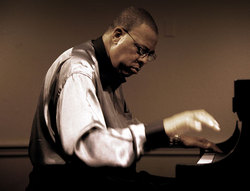 David Dalle
Thursday September 12th, 2013 with David Dalle
Alfred Schnittke's 6th symphony; new music from Chucho Valdes, Mulatu Astatke, Ahmad Jamal and more
Starting today with some new jazz releases from some great Jazz masters from Cuba, Ethiopia, and US with Chucho Valdes, Mulatu Astatke, Ahmad Jamal. The two Chucho Valdes pieces we hear from his stellar new album "Border Free" are tributes to his grandmother and mother, and feature quotes from their favourite pieces, Rachmaninov's 2nd Piano Concerto and Bach's Prelude in d respectively. In the 2nd half of the show we continue my Schnittke symphony cycle with Alfred Schnittke's 6th symphony. This work from 1993 showed the significant change in direction with Schnittke's music in his late period. Composed in 1993, it came several years after Schnittke suffered a stroke which left him in a coma. He recovered, but he would experience a sequence of strokes until his death in 1998, each taking more of him and leaving him increasingly ravaged. The best word to describe his late works, without sugar-coating it, is bleak. The orchestral writing is much more sparse and ascetic, though the underlying tension is still strong, there are brief fleeting moments of stark beauty and calm, but the mood is overwhelmingly dark.
Caridad Amaro
Chucho Valdes & the Afro-Cuban Messengers - Border Free - Jazz Village

Pilar
Chucho Valdes & the Afro-Cuban Messengers - Border Free - Jazz Village

Africando
Juan Carmona - Alchemya - World Village

Saturday Morning
Ahmad Jamal - Saturday Morning - Jazz Village

Hager Fiker
Mulatu Astatke - Sketches of Ethiopia - Jazz Village

Motherland Abay
Mulatu Astatke - Sketches of Ethiopia - Jazz Village

Eyew Demamu
Mahmoud Ahmed - Ethiopiques vol. 19 Alemye - Buda
Symphony No. 6
Alfred Schnittke/BBC National Orchestra of Wales, Tadaaki Otaka - The Ten Symphonies - BIS
Tonight
Keith Jarrett, Gary Peacock, Jack DeJohnette - Somewhere - ECM
Sahara Dreams
Romeo Scaccia & Kocani Orkestar - Romeo Scaccia Meets Kocani Orkestar - Morgenland