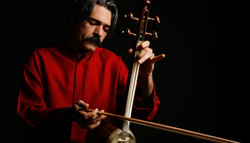 David Dalle
Thursday September 5th, 2013 with David Dalle
Kayhan Kalhor, Jayme Stone, classic Ghanian afrofunk
Today we will hear Kayhan Kalhor's striking and intimate album "I Will Not Stand Alone". Kayhan composed this piece as a reaction to the turmoil during and after the 2009 Iranian elections which saw the largest unrest and protests since the 1979 revolution. It is a very personal expression of what music means for Kayhan, in his own words: "During the early period of unrest in my country, I felt very isolated. This was one of the most difficult stages in my life, where darkness and violence seemed to be taking over. Closing in allowed me the time to rethink music: not technically, as my work has followed a certain path, but this period allowed me to see the importance of music and how it can open doors of hope. It took me a while to understand this, and the events I witnessed crystallized many things for me. I chose to be with the people and play music for them, feeling more connected than ever before. This album is the production of that dark period. The process of making this music and letting it be heard allowed me to realize that I will not stand alone."
Starting off with some deliciously brassy Ghanian afrofunk from the mid-70's/early 80's.
Children Don't Cry
Ebo Taylor - Afrobeat Airways 2 - Analog Africa

Gbei Kpakpa Hife Sika
Waza-Afriko 76 - Afrobeat Airways 2 - Analog Africa

God Is Love
Complex Soundz - Afrobeat Airways 2 - Analog Africa

Soundiata
Jayme Stone - The Other Side of the Air - Independent


The Cinnamon Route
Jayme Stone - The Other Side of the Air - Independent


Debussy Heights
Jayme Stone - The Other Side of the Air - Independent


Silo
Ablaye Cissoko & Volker Goetze - Amanke Dionti - Motema
Habibatou
Mansa Cissoko and Kabarata - N'tomi - Bullfrog
Between the Heavens and Me
Kayhan Kalhor & Ali Bahrami Fard - I Will Not Stand Alone - World Village
Where Are You?
Kayhan Kalhor & Ali Bahrami Fard - I Will Not Stand Alone - World Village
The Laziest Summer Afternoon
Kayhan Kalhor & Ali Bahrami Fard - I Will Not Stand Alone - World Village
Dancing Under the Walnut Tree
Kayhan Kalhor & Ali Bahrami Fard - I Will Not Stand Alone - World Village
Hear Me Cry
Kayhan Kalhor & Ali Bahrami Fard - I Will Not Stand Alone - World Village
Pluck a Star From the Sky
Kayhan Kalhor & Ali Bahrami Fard - I Will Not Stand Alone - World Village
Here I Am Alone Again
Kayhan Kalhor & Ali Bahrami Fard - I Will Not Stand Alone - World Village
I Will Not Stand Alone
Kayhan Kalhor & Ali Bahrami Fard - I Will Not Stand Alone - World Village