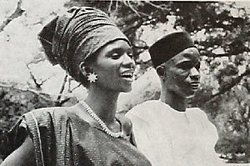 David Dalle
Thursday August 29th, 2013 with David Dalle
Morton Feldman's violin concerto, music from Africa, Vietnam and more
Starting today with one of Mali's most beautiful voices, then moving on to Aziz Sahmaoui of Orchestre National des Barbès fame in his most recent project the University of Gnawa with mostly Senegalese musicians which leads us to a Wolof and a Mandinka musicians from Senegal before an unexpected detour to Vietnam. The 2nd hour is dedicated to the slowly unfolding Violin and Orchestra, a piece by American Mortan Feldman from 1979 in a new recording on ECM. Typically of Feldman's music, the tempo is fairly slow and static, but there is an awful lot that happens with the violin and orchestra, slight variations in many small gestures, but fascinating and music which can just envelop the listener.
Hadire
Fanta Damba - Fanta Damba du Mali - Bolibana
Black Market
Aziz Sahmaoui & University of Gnawa - Aziz Sahmaoui & University of Gnawa - Naive
Tamtamaki
Aziz Sahmaoui & University of Gnawa - Aziz Sahmaoui & University of Gnawa - Naive
Walo
Fallou Dieng - Fallou Dieng - Sheer
Kimintang
Ablaye Cissoko - Diam - Ma Case
Vong Co
Ensemble Nguyen Vinh Bao - Vietnam - Ocora
The Desert
Pham Duc Thanh - Vietnamese Traditional Dan Bau Music - Oliver Sudden

Ay Bakoy
Vieux Farka Toure - Mon Pays - Six Degrees
Violin and Orchestra
Morton Feldman/Carolin Widmann, Frankfurt Radio Symphony Orchestra, Emilio Pmarico - Violin and Orchestra - ECM

Esmerine, an interesting multi-instrumental quartet from Montreal who had an artistic residency in Istanbul and recorded a new album with several Turkish musicians there. The new album is out next week and they are touring with their Turkish guests, playing in Ottawa this Tuesday at 1st Baptist Church at 140 Laruier ave West. 7:30p.m. Tickets are a mere $15 in advance. Hope to see you there.
http://www.esmerine.com/shows/
Barn Board Fire
Esmerine - Dalmak - Constellation