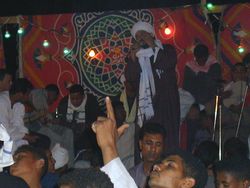 David Dalle
Thursday August 22nd, 2013 with David Dalle
Amin Al-Dishnawi, new music from Niger, Ablaye Cissoko with Volker Goetze, Debussy
Starting today with more extremely rare Sufi music from Egypt with another great Munshidin, Amin Al-Dishnawi, Munshid of the Sufi brotherhood 'Usba Hashimiyya. These Egyptian musical traditions are very popular within Egypt with the greatest Munshidins being in great demand for festivals, private and Sufi gatherings. Yet, this music is virtually unknown outside Egypt. It is among my favourite musical traditions and I continue to search for access to this music, I have had some recent luck and we will be hearing quite a few recordings of these fantastic artists. We also hear the first international recording from Niger's Tal National, a very popular band in Niger from the capital Niamey. They are also conducting their first international tour with dates in Toronto and Montreal in September. I saw a wonderful concert at the Ottawa Chamberfest a few weeks ago with Senegalese Griot Ablaye Cissoko and Ziya and Kiya Tabassian. This is not Ablaye Cissoko's first cross-cultural collaboration, he has been recording and touring for several years with German jazz trumpeter Volker Goetze in a very unusual duo for trumpet, kora and voice. And since it's Claude Debussy's birthday today, we will hear a new recording from pianists Pascal and Ami Roge, in their own 2-piano transcription of Debussy's gorgeous symphonic poem "La Mer".
Unknown
Amin Al-Dishnawi - Vol. 2
Koutche
Tal National - Kaani - Fat Cat

Banganeseba
Tal National - Kaani - Fat Cat

Im Raharan
Etran Finatawa - The Sahara Sessions - World Music Network
Mossi Gaydou
Mamar Kassey - Denke-Denke - Daqui
Fleuve
Ablaye Cissoko & Volker Goetze - Amanke Dionti - Motema
Togna
Ablaye Cissoko & Volker Goetze - Amanke Dionti - Motema
Odo Ye Owu
Kwaku Abeka's Arcobrass Band - The Highlife Allstars: Sankofa - Network
La Mer
Claude Debussy, arranged for 2 pianos by Pascal & Ami Roge/Pascal & Ami Roge - Debussy, Ravel - Onyx