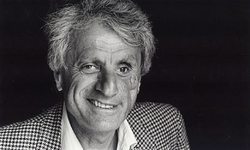 David Dalle
Thursday August 1st, 2013 with David Dalle
The JACK Quartet, Xenakis, guest Gary Kulesha
Looking again at some of the remaining concerts in the Chamber Music Festival. The last few days features a lot of contemporary and recent music, especially during the New Music Now miniseries Monday and Tuesday. One of the highlights is music of Iannis Xenakis and the JACK Quartet. The JACK Quartet has been filling halls with their electric performances of two string quartets in particular: the ferocious and magnificent "Tetras" quartet by Xenakis from 1983 and "In The Dark" quartet by Georg Friedrich Haas from 2003. The JACK quartet will be performing "Tetras" on both Monday and Tuesday. "In The Dark" 10 p.m. Monday night. "In The Dark" demands the performance hall be put in complete darkness, even emergency lights sealed over, with the four musicians positioned in the four corners. This piece has not been recorded yet, so this will be the first opportunity for myself and most in Ottawa to hear this work, and from reports from Europe and the US, this piece is a unique and incredible event, not to be missed! I can't wait! Here is the JACK quartet's performance in New York City described by music writer Alex Ross: "the JACK Quartet—a youthful group that has made its reputation almost entirely with avant-garde fare—routinely fills halls for performances of Georg Friedrich Haas's Third String Quartet, which makes such extreme demands on players and audience alike that at one concert in Pasadena listeners were required to sign a waiver absolving the venue of legal responsibility. The work is subtitled In iij. Noct., a reference to the Third Nocturn of the old Roman Catholic Tenebrae service for Holy Week, which marked Christ's sufferings and death with the gradual extinguishing of candles. Haas, who grew up in Tschagguns, a Catholic village in the Austrian Alps, asks for total darkness during performances of his quartet, the score specifying that even emergency lights should be covered. In September, I saw, or didn't see, a JACK performance of In iij. Noct. at the Austrian Cultural Forum, on East Fifty-second Street. When the blackout began, I initially felt a fear such as I've never experienced in a concert hall: it was like being sealed in a tomb. No wonder the members of JACK usually try out a brief spell of darkness with each audience, to see if anyone exhibits signs of distress. (Indeed, one young man sheepishly got up and left.) Yet the fear subsides when the music begins. The performers, who are positioned in the corners of the room, seem to map the space with tones, like bats using echolocation to navigate a lightless cave. They have memorized the score in advance, and it is an unusual document: Haas sets out eighteen musical "situations"—with detailed instructions for improvising on pre-set motifs, chords, and string textures—and a corresponding series of "invitations," whereby the players signal one another that they are ready to proceed from one passage to the next. Often, the music borders on noise: the strings emit creaks and groans, clickety swarms of pizzicato, shrill high notes, moaning glissandos. At other times, it attains an otherworldly beauty, as the players spin out glowing overtone harmonies. Toward the end comes a string-quartet arrangement of one of Carlo Gesualdo's Responsories for the Tenebrae service ("I was like an innocent lamb led to the slaughter . . ."). That music is four hundred years old, and yet, with its disjointed tonal language, it sounded no less strange than the contemporary score that surrounded it. Weirdness is in the ear of the beholder. In the past decade, Haas, who is now fifty-seven and living in Basel, Switzerland, has emerged as one of the major European composers of his generation. He is allied with the French spectralist school, which draws musical material from a close analysis of overtones and other properties of sound. Haas also esteems various American experimental composers, particularly those who are concerned with microtonality, the division of the octave into more than the usual twelve pitches. In this way, he bridges a gap between American and European musical communities that historically have had little to say to each other. What sets him apart from many of his European contemporaries is that he is not afraid of theatrical gestures, opulent expanses of sound, landscapes on an almost Wagnerian scale. Not for him the studiously fragmented modernist discourse that Ligeti once defined as "event—pause—event." He is an esoteric Romantic, dwelling on the majesty and terror of the sublime."
www.chamberfest.com
for all concert information.
The Lemon Bucket Orkestra is appearing at the Ottawa Chamber Music Festival this Saturday for some late night dancing at 10:45pm!
Borisova
The Lemon Bucket Orkestra - Lume, Lume - Fedora Upside Down

Banu-Perenita
The Lemon Bucket Orkestra - Lume, Lume - Fedora Upside Down

Fugue and Postlude
Gary Kulesha/Andrew Burashko - So You Want To Write A Fugue? - Canadian Music Centre

prelude and fugue for gg
Ana Sokolovic/Christina Petrowska Quilico - So You Want To Write A Fugue? - Canadian Music Centre

Interview with Gary Kulesha, professor of music at the University of Toronto and an accomplished composer. He will be hosting the New Music Now series on Monday and Tuesday.
String Quartet no. 2
Gyorgy Ligeti/JACK Quartet - Live at Wigmore Hall - Wigmore Hall Live
The JACK Quartet will be performing Xenakis' Tetras twice, Monday at 5:45pm at Dominion Chalmer's and as part of the Xenakis portrait on Tuesday at 3pm at the National Gallery. The JACK Quartet is actually appearing a total of 4 times from Sunday to Tuesday with the Xenakis,Hass, as well as music from John Zorn, Helmut Lachenmann, and their transcriptions of several Gregorian chants.
Tetras
Iannis Xenakis/JACK Quartet - Live at Wigmore Hall - Wigmore Hall Live
The Pacifica Quartet will be appearing Saturday evening with a wonderful program of Haydn, Bartok's 6th quartet and joined by cellist Raphael Wallfisch in Schubert's miraculous String Quintet in C.
String Quartet No. 3
Elliott Carter/The Pacifica Quartet - String Quartets Nos. 2, 3, and 4 - Naxos