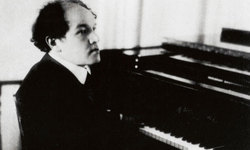 David Dalle
Thursday July 25th, 2013 with David Dalle
Medtner's Night Wind sonata with Marc-André Hamelin
"Of what do you howl, night wind...?" Marc-André Hamelin with his recording of the fearsome and epic 'Night Wind' piano sonata by Nikolai Medtner. This work from 1911 lasts over 30 minutes and expresses a long dark night of the soul, extraordinarily passionate, moving, and beautiful, there are few piano sonatas like it, able to stand alongside Liszt's mighty b minor sonata and Beethoven's final sonata Op. 111. Very very few pianists have recorded or performed it. Ottawa gets an extremely rare chance to hear it live with Marc-André Hamelin on Saturday July 27th as part of the Ottawa Chamber Music festival, if there is one concert you see this year, this is the one!
We start with a great piece by Iannis Xenakis for piano, 2 trumpets, 3 trombones. The Chamber Music Festival is presenting a concert dedicated to Xenakis on Tuesday Aug. 6. www.chamberfest.com
Eonta
Iannis Xenakis/Yuji Takahashi, P. Thibault, L. Longo, J. Toulon, G. Moisan, M. Chapellier, Konstantin Simonovic - Eonta - Chant du monde
Chant d'exil et danses
Koumpania Xalkias - Traditional Musicians of Epirus - Inedit
Aspri Kataspri
Psarantonis & Ensemble Xylouris - Mountain Rebels - Network
Kolo
Aleksander Sisic & Orkestar - Basalen Romalen - RTS
Ederlezi
Goran Bregovic, Vaska Jankovska, Okrestar Fejat Sedjic - Le Temps des Gitans - Phonogram
Cocek zenksa igra
Orkestar Bakija Bakic - Basalen Romalen - RTS
Fyodor Tyutchev's Night Wind

What are you wailing about, night wind, what are you bemoaning with such fury? What does your strange voice mean, now indistinct and plaintive, now loud? In a language intelligible to the heart you speak of torment past understanding, and you moan and at times stir up frenzied sounds in the heart!

Oh, do not sing those fearful songs about primeval native Chaos! How avidly the world of the soul at night listens to its favourite story! It strains to burst out of the mortal breast and longs to merge with the Infinite... Oh, do not wake the sleeping tempests; beneath them Chaos stirs!
Sonata in e minor Op. 25 no. 2 'Night Wind'
Nikolai Medtner/Marc-Andre Hamelin - The Complete Piano Sonatas - Hyperion

Tabi' S-Samar
Omar Ghallab - The Music of Islam vol. 11 Music of Yemen - Celestial Harmonies
Ray way loulou sabib
Muhammad al-Badri - Au royaume de la lyre - Institut du monde arabe
In De Hallad
Etran Finatawa - The Sahara Sessions - World Music Network