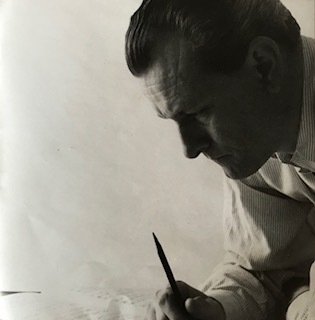 Rabble Without A Cause
Wednesday June 19th, 2019 with Bruce Walton
'turn up the quiet' - Jimmy Giuffre in the studio, 1961; in concert, 1965
Contrapuntal music from a true original. Completely-ignored-at-the-time beauty from the 1961 trio with Paul Bley & Steve Swallow, and 1965 concert recordings made for Columbia U campus radio.
"This music is no novelty; it's the result of almost a decade of thinking, writing and blowing. To me it seems like sheer insanity to continue to play against that hammering beat." (Giuffre in 1955, when asked about his drummer-less group.) Giuffre described his music as "jazz, with a non-pulsating beat. The beat is implicit, acknowledged but unsounded . . . not having it sounded allows for freer thinking."
Brief Hesitation
Jimmy Giuffre 3 - Fusion (rec. March 1961, re-issued with Thesis on cd by ECM, 1992))
Whirrr
Jimmy Giuffre 3 - Thesis (rec. August 1961)
Scootin' About
Jimmy Giuffre 3 - Fusion
Sonic
Jimmy Giuffre 3 - Thesis
Giuffre's compositional technique derived from his earlier studies with a Dr. Wesley LaViolette in California - "He was the one who opened up the contrapuntal jazz direction for me. Most arrangers stay in the harmonic vein, but counterpoint leads you to play melodies instead of changes." As pianist Don Friedman described it "Jimmy would write out melodic parts with counterpoint, then ask us to feel a way to fit the parts together rather than play the parts as written". The resulting music, other than the head of each piece, "was all by ear, with no chords or harmonic suggestions" (bassist Barre Phillips), what Giuffre called "free counterpoint."
Carla
Jimmy Giuffre 3 - Thesis
Syncopate
Jimmy Giuffre 4 - New York Concerts (Wollman Aud., May 1965)
Ornette Coleman had a significant impact on Giuffre's music. They met in 1959 at the Berklee Summer Jazz School in Lenox MA. Giuffre: "Thanks to Ornette Coleman, I gave up playing with my fingers rather than with my mind. We are progressing, Ornette and I, on the same track, but - possibilities being unlimited - it is hard to see any similarity."
Giuffre used two bands for the live recordings made for broadcast on WKCR-FM in May and September 1965. The '3' (Judson Hall, September) were Giuffre, Richard Davis on bass and Joe Chambers on drums. The '4' (Wollman Audiorium, May) were Giuffre, Don Friedman on piano, Barre Phillips on bass, and Chambers on drums.
Crossroads (Ornette Coleman)
Jimmy Giuffre 3 - New York Concerts (Judson Hall, Sept. 1965)
Cry, Want
Jimmy Giuffre 4 - New York Concerts
Angles
Jimmy Giuffre 3 - New York Concerts