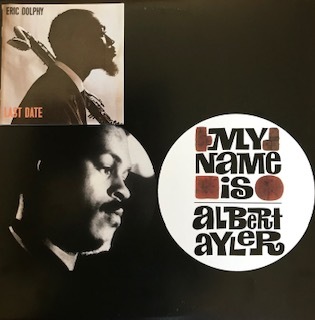 Rabble Without A Cause
Wednesday June 5th, 2019 with Bruce Walton
Albert Ayler's first album / Eric Dolphy's last
Beginnings, endings, and passings: two records made about 18 months apart in Europe, 1963-1964. Albert Ayler died, by his own hand, less than 8 years after his debut recording; Eric Dolphy died less than 4 weeks after making what turned out to be his final album.
An interesting spoken intro by Albert Ayler - we learn that he played golf in high school, as well as oboe; that he helped fellow-musicians in the Army "feelings-wise", and of his belief that "one day, things will be as they should be".
Introduction/Bye Bye Blackbird
Albert Ayler - My Name Is Albert Ayler (1963)
Hypochristmutreefuzz
Eric Dolphy - Last Date (1964)
Miss Ann
Eric Dolphy - Last Date
On Green Dolphin Street
Albert Ayler - My Name Is Albert Ayler
You Don't Know What Love Is
Eric Dolphy - Last Date
Billie's Bounce
Albert Ayler - My Name Is Albert Ayler
Summertime
Albert Ayler - My Name Is Albert Ayler