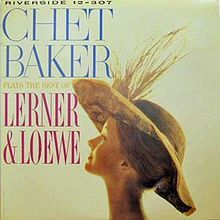 Rabble Without A Cause
Wednesday January 23rd, 2019 with Ron Steeds & Fran Cosper
Fran's Choice Pt. 2
More Great Jazz!
I've Grown Accustomed To Her Face
Chet Baker - Plays The Best Of Lerner And Lowe - WaxTime
Onw Mint Julep
Freddie Hubbard - Open Sesame - Blue Note
Summertime
George Benson - It's Uptown - Columbia
Where Are You
Dexter Gordon - Go! - Blue Note
Everyday
Lambert Hendricks And Ross - Sing A Song Of Basie - Impulse!
Good Old Soul
Tina Brooks - True Blue - Blue Note
Love And Hate
Jackie McLean - Destination Out! - Blue Note
Body And Soul
Thelonious Monk - Monk's Dream - WaxTime
You Don't Know What Love Is
John Coltrane - Ballads - Impulse!