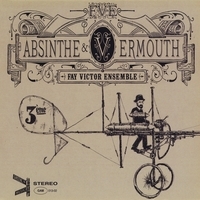 Rabble Without A Cause
Wednesday December 16th, 2015 with Bernard Stepien
Brooklyn avant-vocalist Fay Victor
You like avant-garde Jazz? Be ready for avant-vocal Jazz! While I acquire countless CDs that take me for ever to feature in my RWAC show, Fay Victor's Absinthe & Vermouth was love at first sight followed by an urge to present this CD on air as immediately as possible, especially this time of year where singing Christmas Carols is saturating the musical space. Her style sounds like a machine gun of Jazz Vocal History rather than a plain collage. Needless to say that your chances of survival during a live performance are slim. The ultimate musical ecstasy! Fay Victors style could be described as the ultimate art of assembling musical elements by ensuring maximum unpredictability and thus avoid the risk of boredom altogether. Also, after the passing away of Abbey Lincoln, withdrawal symptoms are stopped in their tracks as the future of extreme vocalism is firmly established. Totally brilliant. Fay Victor has played with both the topmost American and European artists, from Anthony Braxton to the ICP Orchestra.
crystal
Fay Victor - absinthe & vermouth - greene st music
gunk
Fay Victor - absinthe & vermouth - greene st music
the sign at the door
Fay Victor - absinthe & vermouth - greene st music
robot clown
Fay Victor - absinthe & vermouth - greene st music
shaded in grey
Fay Victor - absinthe & vermouth - greene st music