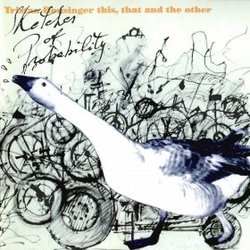 Rabble Without A Cause
Wednesday September 23rd, 2015 with Bernard Stepien
Cellist Tristan Honsinger IMOO concert preview
Cellist Tristan Honsinger started, so to speak, his career in Montreal after fleeing the US to avoid draft. This is where he started embracing Free Jazz. He quickly moved to Amsterdam in Holland where he quickly established a network in the European Free Jazz community playing with the heavyweights there like Derek Bailey, Günter Christmann, Irene Schweitzer, the ICP Orchestra and many subgroups with its members, not to mention associations with pianist Cecil Taylor during his frequent visits to Europe. His style is a radical version of all musical material a musician starting in the classical world and moving through Jazz can accumulate. Currently, his music is laden with theatrical elements mostly due to his residency in Parma's, Italy, Teatro Due. One of the main characteristics of his art is the use of body language to reinforce his musical elements. Tristan Honsinger will be among us this coming Sunday, September 27th as part of the IMOO series at the Raw Sugar Café on Somerset street (west of Bronson), starting at 7pm sharp. This will be a string trio with bassist Nicolas Caloia and violinist Josh Zubot. Tristan Honsinger is considered as a heavyweight artist in Europe, thus presence at this event is compulsory… We also will listen to some electric Gong of now local Dunrobin based artist, Johannes Welsch and a special guest sound technician David hess from Heidelberg Germany playing traditional gongs with Korg Wavedrums.
allora
Tristan Honsinger - call me us - ReR Megacorp
johina
Johannes Welsch - Dunrobin Sonic Gym - independent

television
Tristan Honsinger - sketeches of probability - AIAI
waltz fantasies and traffic
Tristan Honsinger - sketeches of probability - AIAI