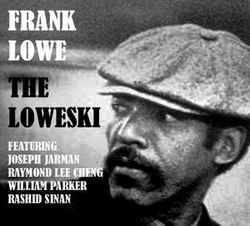 Rabble Without A Cause
Wednesday May 6th, 2015 with Bernard Stepien
Free Jazz archeology: tenor saxophonist Frank Lowe
Tenor saxophonist Frank Lowe produced recordings consistently from 1973 when he first appeared on the New York Free Jazz scene to his death in 2003. Born and raised in Tennesse, he first headed to San Francisco and then head towards New York City where his pure Free Jazz style was immediately welcomed. He played with both Sun Ra and Alice Coltrane at that time. His recording career is well documented:
http://en.wikipedia.org/wiki/Frank_Lowe
Tonight we will survey his 1973 recording The Loweski on the ESP-DISK label.
the loweski pt. 1
Frank Lowe - The Loweski - ESP-DISK
the loweski pt. 2
Frank Lowe - The Loweski - ESP-DISK
the loweski pt. 3
Frank Lowe - The Loweski - ESP-DISK
the loweski pt. 4
Frank Lowe - The Loweski - ESP-DISK
the loweski pt. 5
Frank Lowe - The Loweski - ESP-DISK