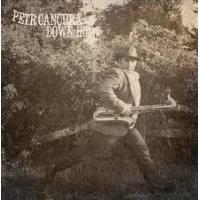 Rabble Without A Cause
Wednesday October 22nd, 2014 with Bernard Stepien
Ottawa saxophonist Petr Cancura on tour
From an Ottawa high school to New York's Lincoln Center there is quite a career path that Ottawa, New England Conservatory educated saxophonist Petr Cancura has achieved over just a dozen years. His latest recording JUNO award nominated Down Home CD is a tour de force in reshuffling the Jazz history cards. First the instrumentation that includes even a banjo, a kind of archaic musical instrument compared to today's electronics and computerized gadgets, sets the stage for a unique sound that is far from being archaic since it even straddles the adventures of Free Jazz. Second, the blending of southern Blues, pop music, hard bop, Jazz Rock at all times is both appealing for the general public but also makes the hard core Jazz aficionado think, the ultimate achievement for any musician… Petr Cancura will be in the studio tonight to give us details on his Canadian tour that includes a stop at the NAC Presents series on October 30th.
Those were the times
Petr Cancura - Down Home - roots to boot

farmer tune
Petr Cancura - Down Home - roots to boot

We ain't gonna stop now
Petr Cancura - Down Home - roots to boot

thicket
Joe Morris - wildlife - AUM

Dry county
Petr Cancura - Down Home - roots to boot

my country
Petr Cancura - Down Home - roots to boot