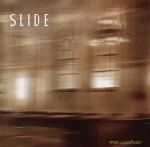 Rabble Without A Cause
Wednesday August 6th, 2014 with Bernard Stepien
Saxophonist Mats Gustafsson explores minimalism
Swedish saxophonist Mats Gustafsson is known to be highly energetic. His associations with radical Peter Brötzman in Europe and with the American Free Jazz scene in Chicago certainly confirm that. However, once in a while, Mats Gustafsson gets into more introverted projects. One of them documented on the CD Slide, explores minimalism with the help of a very unusual contraption, the slide saxophone that was invented in 1922 and that nobody never hear of since then. Technically, the slide saxophone enables to refine the way you do ornementations. On this CD, Gustafsson plays only one note at a time with lots of space in between each note and with a rhythmic pattern that itself is somewhat sliding.
slide
Mats Gustafsson - slide - firework edition records
untitled
Hebden/Reid/Gustafsson - morning prayer - smalltown superjazz