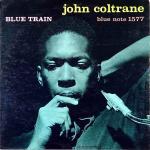 Rabble Without A Cause
Wednesday December 11th, 2013 with Bernard Stepien
John Coltrane – Blue Train 1957
Blue Train is a turning point recording in John Coltrane's career. It marks two important things: first, as his first recording as a leader, it marks the point when Coltrane switched from the status of a sideman to the status of an influential leader. Second, it marks the turning point between Hard Bop and Free Jazz. On Blue Train, Coltrane's phrasing departs the well-established path drawn by Charlie Parker. He no longer sticks to the harmonic framework that up to that point governed Jazz improvisation. Instead, Coltrane started to build clusters of sounds and phrases that had their own logic. However, it is not a radical shift. There are still enough elements of traditional Hard Bop in his playing but enough new material to make that transition to Giant Steps a few years later inevitable and the rest of course is History. It remains one of the most popular or sought after recordings. With the spare time we will have the great pleasure to enjoy a few cuts by Ottawa expatriate saxophonist Kenji Omae, officially influenced by Coltrane, that will be appearing with Peter Hum and more at GigSpace on December 28th.
blue train
John Coltrane - Blue train - blue note
simone
Kenji Omae - web site - independent


moment's notice
John Coltrane - John Coltrane - blue note
locomotion
John Coltrane - John Coltrane - blue note
esat of the sun
Kenji Omae - web site - independent