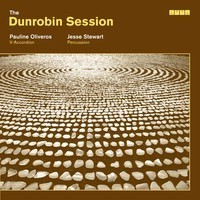 Rabble Without A Cause
Wednesday September 25th, 2013 with Bernard Stepien
Jesse Stewart & Pauline Oliveros
Percussionist and Carleton University professor Jesse Stewart provides us access to unusual artists that we would otherwise never dream of seeing here in Ottawa especially outside the framework of Jazz festivals. This means in small venue where you are less than 5 meters away from the performers giving you the opportunity to be in sync with intensity of the music being produced, a really privileged listening condition. A while ago, Stewart invited accordionist Pauline Oliveros to join him here in Ottawa. After the concert they went to this mysterious place in Dunrobin about 50km away to the Sonic Gym, a private venue, to record a CD. This will be our focus tonight. Even more important is that Stewart has been invited in turn by Oliveros for a concert in this same venue on October 5th. The Dunrobin Sonic Gym announces on its web site that the concert is sold out which indicates that there is now a well structured following for such events and especially music.
breathe
Pauline Oliveros Jesse Stewart - the Dunrobin Session - Nuum


leap
Pauline Oliveros Jesse Stewart - the Dunrobin Session - Nuum


paint
Pauline Oliveros Jesse Stewart - the Dunrobin Session - Nuum


lurch
Pauline Oliveros Jesse Stewart - the Dunrobin Session - Nuum


sleep
Pauline Oliveros Jesse Stewart - the Dunrobin Session - Nuum


feel
Pauline Oliveros Jesse Stewart - the Dunrobin Session - Nuum


crawl
Pauline Oliveros Jesse Stewart - the Dunrobin Session - Nuum