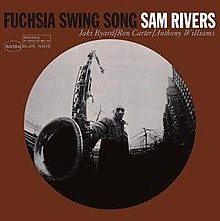 In A Mellow Tone
Wednesday December 26th, 2018 with Ron Steeds
Jazz recorded December 26 featuring the tenor sax. The classic album feature is Sam Rivers' FUCHSIA SWING SONG.
The tenor sax in five sessions between 1962 and 1989 - Clifford Jordan, Benny Golson, Bennie Maupin, Teddy Edwards and Sam Rivers.
Our first set of tenor players recorded December 26
Something To Live For
Clifford Jordan & Ran Blake - Masters From Different Worlds - Mapleshade
My Romance
Benny Golson - Free - Argo
Lady Be Good
Teddy Edwards - Good Gravy - Timeless Records
Our featured classic Jazz record in its entirety.
Fuchsia Swing Song
Sam Rivers - Fuchsia Swing Song - Blue Note
Downstairs Blues Upstairs
Sam Rivers - Fuchsia Swing Song - Blue Note
Cyclic Episode
Sam Rivers - Fuchsia Swing Song - Blue Note
Luminous Monolith
Sam Rivers - Fuchsia Swing Song - Blue Note
Beatrice
Sam Rivers - Fuchsia Swing Song - Blue Note
Ellipsis
Sam Rivers - Fuchsia Swing Song - Blue Note
More jazz recorded December 26
Equipoise
Jack DeJohnette - The DeJohnette Complex - Milestone
Mad About The Boy
Benny Golson - Free - Argo
Georgia
Teddy Edwards - Good Gravy - Timeless Records
Good Gravy
Teddy Edwards - Good Gravy - Timeless Records
We'll end as we began - Clifford Jordan and Ran Blake recorded December 26, 1989
Touch of Evil
Clifford Jordan & Ran Blake - Masters From Different Worlds - Mapleshade