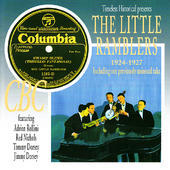 In A Mellow Tone
Wednesday July 8th, 2015 with Ron Steeds
Jazz recorded July 8 between 1927 and 2013.
Jazz recorded July 8 between 1927 and 2013.
We start the show - as usual - with early jazz recorded in 1927, 1929, and 1933...
Swamp Blues
Little Ramblers - Little Ramblers 1924-1927 - Timeless
Seattle Hunch
Jelly Roll Morton - Jelly Roll Morton, disc 2 - JSP
Sweet Georgia Brown
Freddie Johnson, Arthur Briggs and Their All-Star Orchestra - Louis Armstrong and Friends - Gitanes
A lone example of West Coast 1950's cool jazz...
Two Part Contention
Bob Cooper / Art Pepper Quintet - Modern Sounds From California: Historic Recordings 1954-1957 - Fresh Sounds
Set 3 features three tenor sax players in the 1960's. Two tenor giants - Trane and Rollins - sandwich a lesser known (though excellent player) - Junior Cook.
The Invisible
John Coltrane - The Heavy Weight Champion disc 3 - Atlantic
Where You At?
Horace Silver - Horace-Scope - Blue Note
The Blue Room
Sonny Rollins - On Impulse! - Impulse!
Two pianists from sessions recorded in the 1970's...
Standing Outside
Keith Jarrett - Introspection - Atlantic
Parisian Thoroughfare
Stanley Cowell - Waiting For The Moment - Galaxy
Two pieces led by bassists (John Lindberg and Reggie Workman) recorded live in the 1980's featuring clarinetists (John Carter with Lindberg and Don Byron with Workman)...
East Side Suite Pt.1
John Lindberg - The East Side Suite - Sound Aspects
Medea
Reggie Workman - Images - Music and Arts
This set consists of three pieces recorded in the 1990's...
Some Other Spring/Some Other Time
John Hicks - After The Morning - DSM
Ruthless
Joe Chambers - Mirrors - Blue Note
The Waiting Game
Mike Nock and Marty Ehrlich - The Waiting Game - Naxos
The soprano sax of Jane Ira Bloom...
Dreaming In The Present Tense
Jane Ira Bloom - Like Silver, Like Song - Artist Share
We end the show with a new release recorded July 8, 2013 by the piano trio led by Gabriele Pezzoli. And we're out of here.
Carnet de Voyage
Gabriele Pezzoli - Viljandi - Altrisuoni