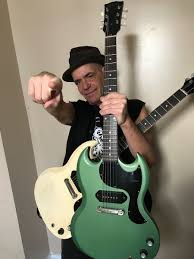 Roots and Rhythms
Sunday March 17th, 2019 with Raucous Renny
UNDERCOVER MUTHA! Blistering cover versions of rockabilly, blues, R&B, rock & roll and more, all played by one of the greatest unknown guitar gods, SIMON CHARDIET (as leader of the Bar Sinister's and as a member of the Mooks).
He's sure gotta lot of roots for a bald cat!
Stealin' (Memphis Jug Band '28)
SIMON CHARDIET - Rockabilly From Rockaway! Vol. 1 - 2018 bandcamp.com
Police And High Sheriff (Ollis Martin '27)
SIMON & THE BAR SINISTERS - Music For All Occasions - 2006 bandcamp.com
My Baby's Just Like Money (Lefty Frizzell '51)
SIMON & THE BAR SINISTERS - I'm Gonna Feed My Baby Poison (Rockin' with Simon and the Bar Sinisters Vol. 2) - 2004 bandcamp.com
Hillbilly Blues (Eddie Clearwater a.k.a. Clear Waters '58)
SIMON CHARDIET - Rockabilly From Rockaway! Vol. 2 - 2018 bandcamp.com
Come On Little Mama (Ray Harris '56)
SIMON & THE BAR SINISTERS - Rockin' with Simon and the Bar Sinisters Vol. 1 - 2003 bandcamp.com
Crash The Party (Benny Joy, sometime between '56 to'58)
SIMON CHARDIET - Rockabilly From Rockaway! Vol. 1 - 2018 bandcamp.com
Run Chicken Run
SIMON CHARDIET - Bug Bite Daddy - 1997 Upstart Records
2000 LB Bee (Ventures '62)
SIMON & THE BAR SINISTERS - Break The Tension, Have A Peanut!!! - 2015 bandcamp.com
A-Bomb Bop (Mike Fern [Fernandez] & Del Royals '59)
SIMON CHARDIET - Rockabilly From Rockaway! Vol. 2 - 2018 bandcamp.com
Little Pig (Dale Hawkins '58)
THE MOOKS - Vic Ruggiero & Simon Chardiet are..THE MOOKS!!! - 2019 bandcamp.com

How Many More Years? (Howlin' Wolf '51)
THE MOOKS - Vic Ruggiero & Simon Chardiet are..THE MOOKS!!! - 2019 bandcamp.com
Bow Legged Woman (Bullmoose Jackson & His Buffalo Bearcats '47)
SIMON & THE BAR SINISTERS - Die Hipster Scum - 2011 bandcamp.com
Bloodshot Eyes (Hank Penny/Wynonie Harris '50/'51)
SIMON & THE BAR SINISTERS - I'm Gonna Feed My Baby Poison (Rockin' with Simon and the Bar Sinisters Vol. 2) - 2004 bandcamp.com
Wildcat Tamer (Tar Heel Slim '58)
SIMON CHARDIET - Rockabilly From Rockaway! Vol. 1 - 2018 bandcamp.com
Pink Champagne (Joe Liggins/Don & Dewey '50/ '59)
SIMON CHARDIET - Rockabilly From Rockaway! Vol. 1 - 2018 bandcamp.com
Bad Boy (Clarence Palmer & The Jive Bombers '57)
SIMON & THE BAR SINISTERS - Rockin' with Simon and the Bar Sinisters Vol. 2 - 2003 bandcamp.com
Broke! (Chuck Higgins & His Joyboys '55)
THE ROOFTOPPERS - The Rooftoppers play for..YOU! - 2018 bandcamp.com