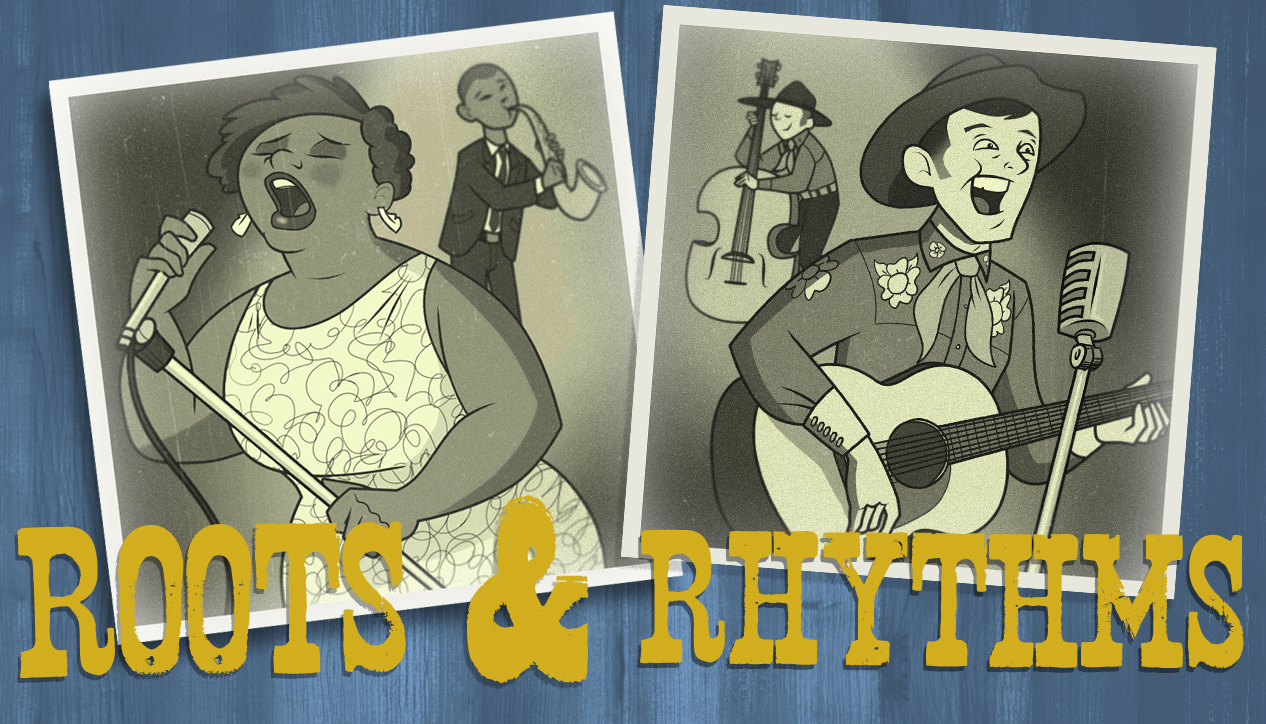 Roots and Rhythms
Wednesday August 8th, 2018 with Relocatin' Renny
GOODBYE, THANK YOU & SEE YOU SUNDAY; The last Wednesday episode of R&R. Songs of farewell, thanks & Sunday love.
Goodbye Baby Blues
MISSISSIPPI JOE CALLICOTT - Ain't A Gonna Lie To You - '69 Arhoolie Records/'03 Fat Possum Records
Thank You Sir
REV JOHN WILKINS - You Can't Hurry God - '15 Big Legal Mess Records
Wednesday Evening
JOHN LEE HOOKER - The Legendary Modern Recordings: 1948-1954 - '50 Modern Records/''93 Virgin Records
Goodbye Train
BIG SUGAR - Big Sugar - '92 Hypnotic Records/A&M Records

Goodbye Old Pal
BILL MONROE & HIS BLUE GRASS BOYS - The Roots & Blues Retrospective 1925 - 1950 - '45 Columbia Records (unissued take)/'92 Columbia Legacy/Sony Music Entertainment Inc.
Goodby Lisa Jane
BOB WILLS & HIS TEXAS PLAYBOYS - Take Me Back To Tulsa Vol. 3 - Just A Plain Old Country Boy - '42 OKeh Records/'01/'05 Proper Records
Wham! Bam! Thank You Ma'am
HANK PENNY - King Of Hillbilly Bebop - '50 King Records/'03 Proper Records
A Sunday Kind Of Love
ETTA JAMES - The Essential Etta James - '60 Argo Records/'93 MCA Records
I'm Thankful
FAT MAN MATTHEWS & THE FOUR KITTENS - The Cosimo Matassa Story - '53 Bayou Records/'07 Proper Records
Goodbye
MEREDITH HOWARD with THE MAXWELL DAVIS ORCHESTRA - Wailin' Daddy" The Best Of Maxwell Davis 1945 - 1959 - '51 Mercury Records/'11 Fantastic Voyage Music/Future Noise Music
Good-Bye Little Girl
CHRIS POWELL & THE FIVE BLUE FLAMES - Rare Grooves Vol. 3 - '55 Groove Records
Goodbye Baby Here I Go
ELLA JOHNSON with THE BUDDY JOHNSON ORCHESTRA - Buddy & Ellla Johnson 1953-64 - '58 Mercury Records/'92 Bear Family Records
Na Na Hey Hey Kiss Him Goodbye
WAYNE McGHIE & THE SOUNDS OF JOY - Wayne McGhie & The Sounds Of Joy - '70 Birchmount Records/'04 Light In The Attic Records

Rocking On A Sunday Night
THE TRENIERS - The Treniers Rock - '52 OKeh Records/'10 Bear Family Records
Always On A Sunday
THE SKATALITES with FRANK ANDERSON & TOMMY McCOOK - Ska Bonanza: The Studio One Ska Years - '63 Coxsone Records/'91 Heartbeat Records/Poly-Rhythm Ltd.