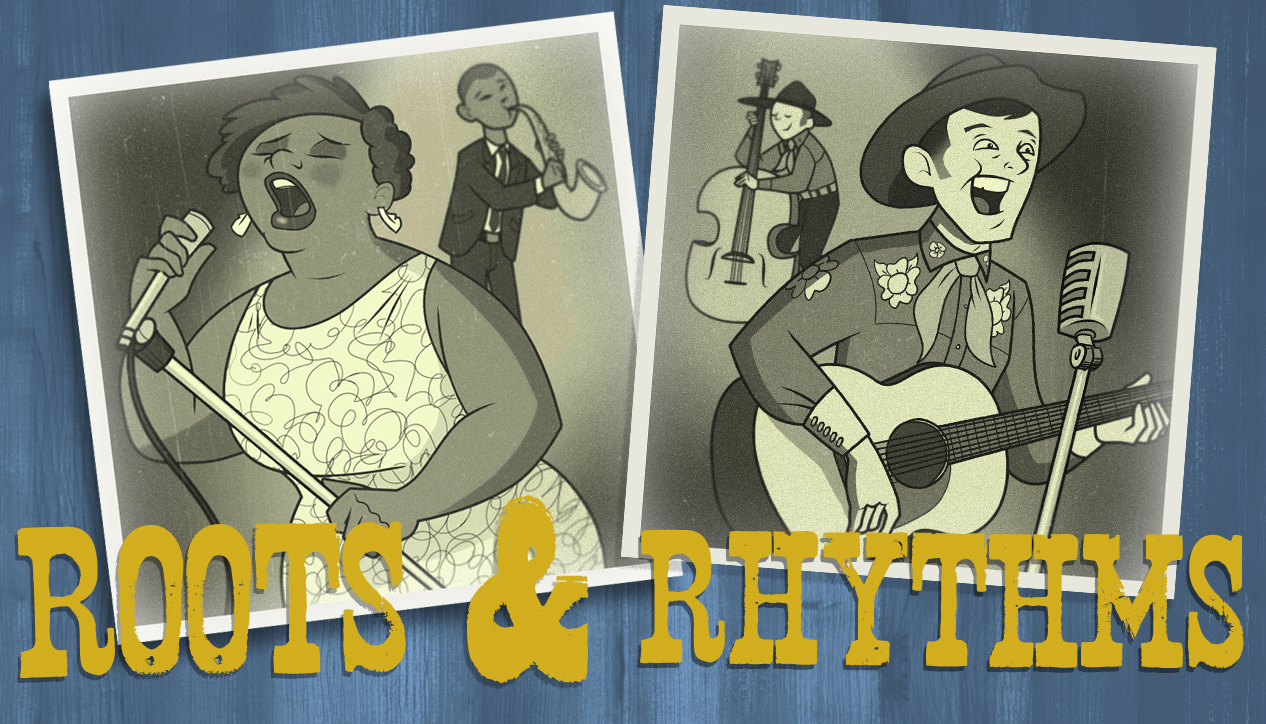 Roots and Rhythms
Wednesday April 18th, 2018 with Ramblin' Renny
Gettin' cabin fever from being stuck inside during the ice storm? Strut, stroll or stride to the radio & tune in to Roots & Rhythms & WALK YOUR BLUES AWAY. A parade of perambulatin' Rhythm & Blues & early Rock & Roll to melt the ice away.
The third and final installment of the WALKING series of music on Roots & Rhythms. This week, some Rhythm & Blues & Rock & Roll that is guaranteed to move your feet.
Walking The Blues
JACK DUPREE & MR. BEAR - Shake, Baby, Shake - '55 King Records/'07 Blue Label
Walking Blues
BIG MAMA THORNTON - Hound Dog: The Peacock Recordings - '52 Peacock Records/'92 MCA Records
Mother Roux a.k.a. Yo Yo Walk
PAUL GAYTEN & HIS ORCHESTRA - Heavy Sugar: The Pure Essence of New Orleans R&B - '56 Checker Records/'10 Fantastic Voyage
The Stroll
THE DIAMONDS - 50's Soul - '57 Mercury Records/'97 PolyGram Records

Jungle Walk
THE DYNA-SORES - Las Vegas Grind Part 1 - '60 Rendevous Records/sometime in 80s, Strip Records
Slow Walk
SIL AUSTIN - 50's Soul - '56 Mercury, CNR Records/'97 PolyGram Records
Strollin' With Bone
T-BONE WALKER - The Complete Imperial Recordings: 1950-1954 - '50 Imperial Records/'91 EMI Records
Easy Walkin'
JESSE STONE - Jesse Stone Alias Charles Calhoun - '49 RCA Victor Records (unreleased)/'96 Bear Family Records
Walk Your Blues Away
PROFESSOR LONGHAIR & HIS BLUES SCHOLARS - 'Fess: The Professor Longhair Anthology - '50 Atlantic Records/'93 Rhino Records
You Gotta Walk That Chalk Line
BUDDY JOHNSON & HIS ORCHESTRA - Walk 'Em - '50 Decca Records/'96 Ace Records
Walking With Mr. Lee
LEE ALLEN - Gumbo Ya Ya - The Cosimo Matassa Story Vol. 2 - '58 Ember Records/'12 Proper Records
She Walks Right In
DIZ & THE DOORMEN - Bluecoat Man - '82/'02 Ace Records
Walk Right In
BILL HARVEY & HIS ORCHESTRA with vocals by FLUFFY HUNTER - Honkers & Bar Walkers Volume Two - '52 Apollo Records/'92 Delmark Records
Walkin' Home
J.T. BROWN - Honkers & Bar Walkers Volume Three - '52 United Records/'02 Delmark Records
I'm Walking
FATS DOMINO - Gumbo Ya Ya - The Cosimo Matassa Story Vol. 2 - '57 Imperial Records/'12 Proper Records
Let's Go Strollin'
DOWNCHILD BLUES BAND - So Far - '74 Special Records/'77 Posterity Records/CD reissue by Linus Entertainment

The Continental Walk
HANK BALLARD & THE MIDNIGHTERS - Sexy Ways: The Best of Hank Ballard & The Midnighters - '61 King Records/'94 Rhino Records
Walk 'Em
BUDDY JOHNSON & HIS ORCHESTRA - Buddy & Ella Johnson: 1953-64 - '59 Roulette Records/'92 Bear Family Records