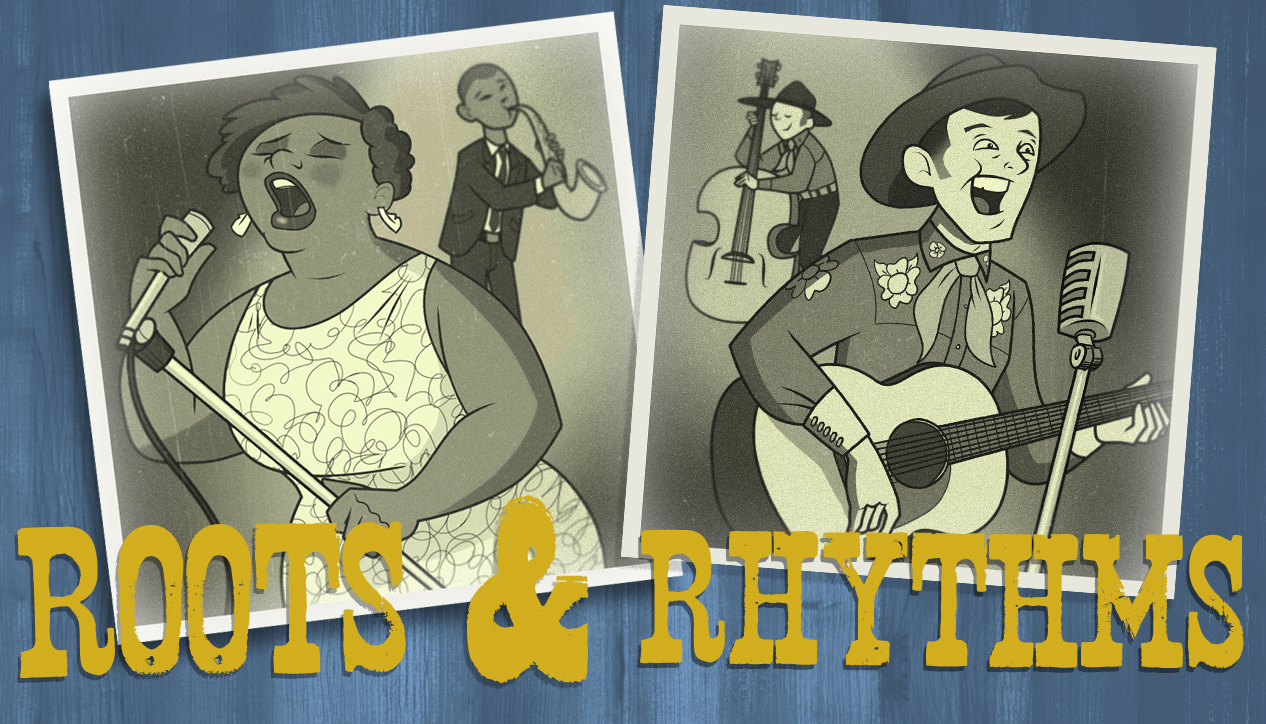 Roots and Rhythms
Wednesday August 23rd, 2017 with Retro Renny
Say what?! Music of the unintelligible, hipster slang and nonsense lyrics. Papa-Omm-Mow-Mow, Be Baba Leba, Oo-Pa-Pa-Da, Jibba Jab, Vout Oreenee. Includes songs by Little Richard, Merle Travis, Charlie Feathers, Johnny Otis, Cab Calloway and more.
Genre jumpin' gibberish. Songs about stuttering, mumbling, hipster slang and nonsense lyrics. I can't understand a word but I do love the music.
Stutter Song
JENKS "TEX" CARMAN "THE DIXIE COWBOY" - Chippeha! (1947-57) - recorded sometime between '48 and '51, 4 Star Records, unreleased/'98 John Fahey's Revenant
When My Baby Double Talks To Me
MERLE TRAVIS - Guitar Rags & A Too Fast Past - '48 Capitol records/'94 Bear Family Records
Tongue-Tied Jill
CHARLIE FEATHERS with JODY & JERRY - \ The Complete Meteor Rockabilly & Hillbilly Recordings - '56 Meteor Records/'03 Ace Records
She Said
HASIL ADKINS - Out To Hunch - '64 Jody Records/'02 Norton Records
Papa-Oom-Mow-Mow
THE RIVINGTONS - Toga Rock II - '61 Liberty Records/'89 CBS Records
Menin Aeide Thea
BIG BROWN - Desperate Rock 'n' Roll Vol. 11 - unknown date & label/'87 Flame Records/Crypt Records
Tutti Frutti
LITTLE RICHARD - Little Richard: The Georgia Peach - '55 Specialty Records/'91 Specialty Records/Fantasy Inc.
Mumblin' Mosie
THE JOHNNY OTIS SHOW - That's Your Last Boogie! The Best Of Johnny Otis 1945-1960 - '60 Capitol Records/'12 Fantastic Voyage
My Mumblin' Baby
BARRENCE WHITFIELD & THE SAVAGES - Let's Lose It - '91 Stony Plain Records
Mumble's Blues
PAUL BASCOMB & HIS ORCHESTRA - The Big Horn – More Bounce To The Ounce - '52 Mercury Records/'03 Proper Records
Mumbles
OSCAR PETERSON TRIO with CLARK TERRY - Oscar Peterson Trio + One: Clark Terry - '64 EmArcy Records/'84 PolyGram Records

Esquerita And The Voola
ESQUERITA - Rockin' The Joint - '58 Capitol Records/'88 The Official Record Company
Jibba Jab
TIC & TOC with HOWARD BIGGS & HIS ORCHESTRA - Las Vegas Grind (Part 1) - '56 Vik Records/ '92 Strip Records/Crypt Records
Oop Shoop
BIG JOHN & THE BUZZARDS - The OKeh Rhythm & Blues Story 1949-1957 - '54 OKeh Records/'93 Sony Music Entertainment
Oo-Pa-Pa-Da
BABS' THREE BIPS & A BOP (BABS GONZALES) - Jumpin' Like Mad: Cool Cats & Hip Chicks Non-Stop Dancin' - '47 Blue Note Records/'96 Capitol Records
Oopy-Doo
JOHNNY OTIS & HIS ORCHESTRA - That's Your Last Boogie! The Best Of Johnny Otis 1945-1960 - '52 Mercury Records/'12 Fantastic Voyage
Be Baba Leba
HELEN HUMES with THE BILL DOGGETT OCTET - The Aladdin Records Story - '45 Philo Records/'94 EMI Records
You Gotta Ho-Di-Ho
CAB CALLOWAY & HIS ORCHESTRA - Cab Calloway: Best Of The Big Bands - '32 Brunswick Records/'89 CBS Records
Vout Oreenee
SLIM GAILLARD & HIS BOOGIEREENERS - Laughing In Rhythm: Groove Juice Special - '45 Queen Records/'06 Proper Records
Incoherent Blues
OSCAR PETERSON TRIO with CLARK TERRY - Oscar Peterson Trio + One: Clark Terry - '64 EmArcy Records/'84 PolyGram Records