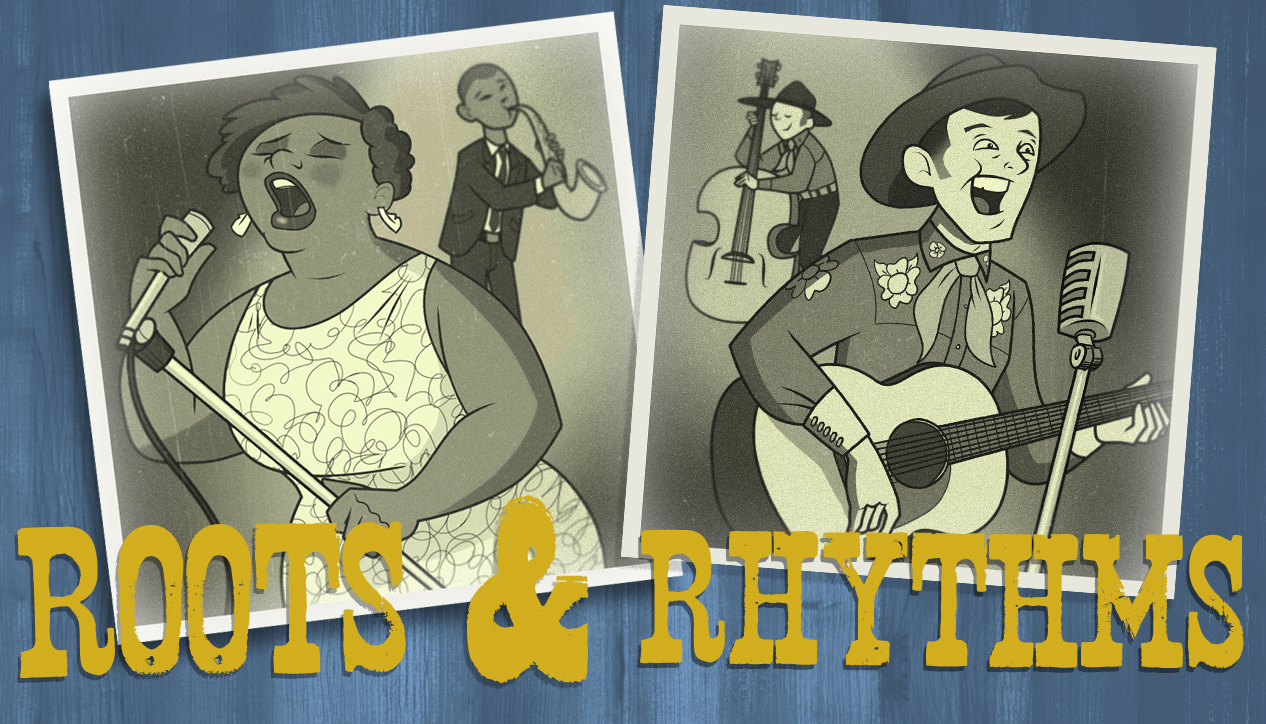 Roots and Rhythms
Wednesday April 27th, 2016 with Renny
Mar-Vel's Mid-West Magic
Featuring the excellent Mar-Vel' Records collection Get With The Beat: The Mar-Vel' Masters released by Rykodisc in 1989. A lost decade of American rock & roll. Based out of Indianna, Mar-Vel' captured the best rockabilly, Western swing and hillbilly boogie in the Mid-West. Their motto was "The Hits Of Tomorrow - Recorded Today"
Count Down ('62)
Lorenzo Smith - Get With The Beat: The Mar-Vel' Masters - Rykodisc
Get With The Beat ('62)
Billy Nix - Get With The Beat: The Mar-Vel' Masters - Rykodisc
Come On Let's Go
Chuck Dallis - Get With The Beat: The Mar-Vel' Masters - Rykodisc
My Friend
Chuck Dallis - Get With The Beat: The Mar-Vel' Masters - Rykodisc
Dark And Stormy
Bill Feguson - Get With The Beat: The Mar-Vel' Masters - Rykodisc
Ha Ha Hey Hey
Mel Kimbrough - Get With The Beat: The Mar-Vel' Masters - Rykodisc
Hot Lips Baby ('58)
Herbie Duncan - Get With The Beat: The Mar-Vel' Masters - Rykodisc
Sweet Lucy
Shorty Ashford - Get With The Beat: The Mar-Vel' Masters - Rykodisc
I Need Some Lovin' ('57)
Harold Allen - Get With The Beat: The Mar-Vel' Masters - Rykodisc
Honky Tonkin' Rhythm ('56)
Bobby Sisco - Get With The Beat: The Mar-Vel' Masters - Rykodisc
Heartsick And Blue
Rem Wall - Get With The Beat: The Mar-Vel' Masters - Rykodisc
Seven Lonely Days
Ginny Carter - Get With The Beat: The Mar-Vel' Masters - Rykodisc
Boogie Woogie Baby Of Mine
Bob Burton - Get With The Beat: The Mar-Vel' Masters - Rykodisc
Would It Matter At All
Jim Gatlin - Get With The Beat: The Mar-Vel' Masters - Rykodisc
The Way You're Treating Me ('53
Jim Gatlin - Get With The Beat: The Mar-Vel' Masters - Rykodisc
Jump Baby Jump ('56)
Harry Carter - Get With The Beat: The Mar-Vel' Masters - Rykodisc
Basil Smith Stomp
Basil Smith - Get With The Beat: The Mar-Vel' Masters - Rykodisc
Out Of The Picture ('59)
Jack Bradshaw - Get With The Beat: The Mar-Vel' Masters - Rykodisc
I'm Settin' You Free ('56)
Harold Allen & J.T. Watts - Get With The Beat: The Mar-Vel' Masters - Rykodisc
Forty Acres Of My Heart ('55)
Bob Burton - Get With The Beat: The Mar-Vel' Masters - Rykodisc
Tired Of Rockin' ('56)
Bob Burton - Get With The Beat: The Mar-Vel' Masters - Rykodisc
Itchy Feet ('54)
Rex Jennings - Get With The Beat: The Mar-Vel' Masters - Rykodisc
Ronnie's Boogie
Ronnie Durban - Get With The Beat: The Mar-Vel' Masters - Rykodisc