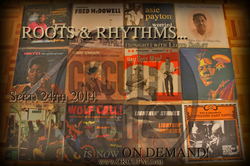 Roots and Rhythms
Wednesday September 24th, 2014 with Lloyd Smiley
A Bunch of Tracks From a Stack of Wax.
A selection of tunes from Lloyd's vinyl collection. This is the Blues, folks! Be sure to tune-in to "Catch 23" on CKCU, tomorrow night at 11pm! ...and THANKS AGAIN FOR LISTENING!
Done Got Old
Junior Kimborogh & the Soul Blues Boys - All Night Long - FAT POSSUM
Shake 'Em On Down
Mississippi Fred McDowell - Lord Have Mercy - DOXY
All I Need is You
Asie Payton - Worried - FAT POSSUM
Hoopin' and Hollerin'
Elmo WIlliams & Hezikiah Early - Takes One to Know One - FAT POSSUM
Rambler Gambler
Odetta - One Grain of Sand - VANGUARD
Walking Blues
Robert Johnson - King of the Delta Blues - COLUMBIA
Jelly Roll King
Frank Frost (with the Night Hawks) - Hey Boss Man! - SAM PHILLIPS (CHARLY)
Five Long Years
Junior Wells - Coming at You - VANGUARD
Letter to My Baby
John Lee Hooker - Never Get Out of These Blues Alive - ABC
Roaches
Mask Man & the Agents - Wolf Call! Tall Cool Ones from the Vaults of Golden Crest! - NORTON
Rolling and Rolling
Lightnin' Hopkins - Lightnin' Strikes - DOLCHESS
Samson and Delilah
Reverend Gary Davis - New Blues and Gospel - SUTRO PARK
Rosetta Blues
Rosetta Howard with the Harlem Hamfats - The Blues Vol. 1: The Legend - SAAR
Every Night
John Lee Hooker - Everybody Rockin' - CHARLY