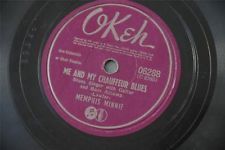 Roots and Rhythms
Wednesday August 20th, 2014 with Allan B. Wigney
OKeh Records: part two
Revived by Columbia Records in 1940, OKeh returned in style with an array of classic blues, country and jazz releases. War and changing tastes eventually forced a rethink, but for the first half of the 1940s, OKeh was more than OK.
Gloomy Sunday
Holiday, Billie - Ain't Nobody's Business If I Do - CSP
Billie Holiday with Teddy Wilson and His Orchestra, recorded Aug. 7, 1941.
Me and My Chauffeur Blues
Memphis Minnie - Folk, Gospel & Blues: Will the Circle Be Unbroken - Columbia Legacy
Weed Head Woman
Champion Jack Dupree - OKeh Chicago Blues - Epic
Parchman Farm Blues
Bukka White - The Story of the Blues - Columbia
Bad Whiskey Blues
The Yas Yas Girl - OKeh Chicago Blues - Epic
Black Rat Swing
Little Son Joe - Roots n' Blues: The Retrospective - Columbia Legacy
Lizzie Douglas, aka Memphis Minnie, was one of the greatest voices of the 20th Century. An influential guitarist, a towering figuring in blues history and the only artist on tonight's show to receive a co-writing credit on a Led Zeppelin song.

Champion Jack Dupree came to Chicago from Indianapolis and began making records for OKeh in 1940. Weed Head Woman is one of a number of drug songs recorded by the Champ.

Merline Johnson was The Yas Yas Girl; this track is from her only post-war recording session for OKeh. A 1947 recording, it was not issued until decades later.

Like Jack Dupree's weed and Merline Johnson's whiskey, Bukka White knew of what he sang when he introduced Parchman Farm Blues in 1940. White was on parole, after serving time at the State Penitentiary at Parchman, Mississippi, when he recorded the song.

Bringing it home to Memphis Minnie was the guitar woman's husband Earnest Lawlars, aka Little Son Joe. Never as well known as his spouse, he was initially billed as Mr. Memphis Minnie.
Hep Tee Tootie
Dolly Dawn & Her Dawn Patrol - download - OKeh
Fifteen Minute Intermission
Cab Calloway & His Orchestra - Stars of the Apollo Theatre - Columbia
Lookin' For a Place to Park
Slim Gaillard - The Groove Juice Special - Columbia
Let Me Off Uptown
Gene Krupa & His Orchestra featuring Roy Eldridge & Anita O'Day - Jazz: The Definitive Performances - Columbia Legacy
Winding up that set was Gene Krupa, the man who provided the backbeat for Benny Goodman and His Orchestra. His own integrated band was a true trailblazer and the 1941 duet between Roy Eldridge and Anita O'Day, Let Me Off Uptown, is a powerful statement that goes beyond mere homage to Harlem.

Less powerful statements were the domain of hepcats Slim Gaillard and Cabell Calloway III. Scatting sensations both, they too served during the swing era and for many decades afterward.

"The champagne of big-band singers." That's what they called New York's Dolly Dawn, who had recorded for Vocalion before releasing Hep Tee Hootie on OKeh in 1940. A major influence on Ella Fitzgerald, Dolly continued to record into the 1980s.
Tobacco State Swing
Hank Penny's Radio Cowboys - Doughboys, Playboys and Cowboys - Proper
What's the Matter with Deep Elm (sic)
Sunshine Boys - Doughboys, Playboys and Cowboys - Proper
Bear Creek Hop
Lightcrust Doughboys - Stompin' Singers & Western Swingers - Proper
Sally's Got a Wooden Leg
Sons of the West - Doughboys, Playboys and Cowboys - Proper
Smoke Across the Water
Bob Wills & His Texas Playboys - Swinging Hollywood Hillbilly Cowboys - Proper
Sally's Got a Wooden Leg is a spirited 1941 number from Amarillo, Texas, and The Sons of the West. The group featured a cousin of Bob Wills on fiddle and disbanded in 1942, when some members were drafted into the war. That was followed by Wills and his Texas Playboys, recognizing changing times with the Allies anthem Smoke Across the Water.

The Lightcrust Doughboys were a rich source not only of material but of musicians for OKeh. Bob Wills had been a member. A number of alumni, including Ted Daffan and Dick Reinhart, formed their own bands or left to join other OKeh stalwarts such as The Hi-Flyers. The 1942 release Bear Creek Hop was the combo's last before several members joined the war effort overseas. The band was revived in 1945, with only one original Doughboy in the lineup.

What's the Matter with Deep Elm, some friendly advice to Texas's prime western swing town, came from The Sunshine Boys of West Virginia and featured Moon Mullican on piano. Post-war, the quartet would focus on country gospel and would feature J.D. Sumner among its vocalists. A version of the group continues to perform today.

From Atlanta via Birmingham by way of New Orleans came Hank Penny, whose Radio Cowboys included young fiddler Boudleaux Bryant, later the co-composer of pop-music staples such as Love Hurts. Penny's Tobacco State Swing hails from a 1940 session. Atlanta's finest western swing bandleader would continue to perform into the 1970s, leading bands in California that included the likes of Roy Clark.
Step It Up and Go
Black Cats and the Kitten - Roots n' Blues: The Retrospective - Columbia Legacy
Rounding out another hour as Valda Buggs and her band – dubbed Black Cats and the Kitten – step it up before we go. Think of it as a preview of OKeh Records: part three.