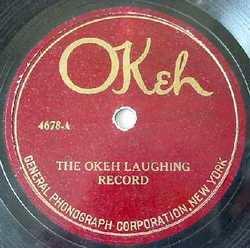 Roots and Rhythms
Wednesday July 30th, 2014 with Allan B. Wigney
OKeh Records: part one
The OKeh Records label has risen phoenix-like a number of times, and is at present home to notable artists like Bill Frisell and John Medeski. Tonight, we return to the independent roots of the label that was rescued by Columbia in 1940 and has been resurrected a number of times since. Influential recordings by some of jazz, blues and country music's most important early players, all courtesy of the dream of a German-American phonograph salesman, launched nearly a century ago in New York City.
The OKeh Laughing Record
Anonymous - The Roaring Twenties - Intersound
Crazy Blues
Mamie Smith & Her Jazz Hounds - Folk, Gospel & Blues - Columbia
Dippermouth Blues
King Oliver's Creole Jazz Band - Jazz - Columbia
Singin' the Blues
Frank Trumbauer & His Orchestra - Bix Beiderbecke - Time-Life
Heebie Jeebies
Louis Armstrong Hot Five - The Complete Hot Five and Hot Seven Recordings - Columbia
The Last Scene of the Titanic
Frank Hutchison - Roots n' Blues - The Retrospective (1925-1950) - Columbia
I Wanna Hot Dog for my Roll
Butterbeans and Susie - Stars of the Apollo - Columbia
Blue Grass Twist
South Georgia Highballers - Roots n' Blues - Columbia
Warming by the Devil's Fire
Reverend Johnny Blakey - Roots n' Blues - Columbia
Stack O' Lee Blues
Mississippi John Hurt - The Story of the Blues - Columbia
Old Man Blues
Harlem Footwarmers - The OKeh Ellington - Columbia
The Jazz Fiddler
Mississippi Sheiks - Roots n' Blues - Columbia
Worried Blues
Gladys Bentley - Roots n' Blues - Columbia
It's Tight Like That
Papa Too Sweet and Harry Jones - Roots n' Blues - Columbia
Hallelujah Side
Tindley Quaker Gospel Singers - Roots n' Blues - Columbia
Gimme a Pigfoot
Bessie Smith - Stars of the Apollo - Columbia