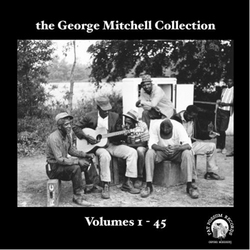 Roots and Rhythms
Wednesday June 25th, 2014 with Chris Ikonomopoulos
Music from the George Mitchell Collection
In 2008, the Fat Possum label released a large amount of rural/country blues music that was recorded by George Mitchell in the 1960s, 70s and 80s. They were simple recordings with a single microphone, often at the homes of the musicians. Fat Possum compiled them into a 7CD set as well as a set of 45 7" records. Tonight we will work through a small number of these records as an overview of this collection. As a small intermission from these blues recordings, we will also spend a bit of time with a few releases from the vast, vast, Norton Records catalogue.
Love Blues [1976]
Cecil Barfield - Vol. 1 - The George Mitchell Collection [45x7" boxed set] - 2008 - Fat Possum
Cool Water Blues [1976]
Houston Stackhouse - Vol. 4 -
Rabbit On A Log [early 1980s]
Lonzie Thomas - Vol. 8 -
Just A Dream I Got On My Mind [1967]
Dewey Corley & Walter Miller - Vol. 13 -
Bud Grant's Grunt [1969]
Bud Grant - Vol. 14 -
Them Greasy Greens
Jim Bunkley - Vol. 17 -
Skinny Woman [1967]
R.L. Burnside - Vol. 26 -
------------------------------------------------------------------------------------------
------------------------------------------------------------------------------------------
Jungle Fever
Charlie Feathers - 45 - Norton
Aw C'om Baby
Myron Lee and the Caddies - 45 - Norton
Scatter
Link Wray - 45 - Norton
Real Cool
The Rhythm Rockers - 45 - Norton
Wobble Wickie
The Rhythm Tones - 45 - Norton
------------------------------------------------------------------------------------------
------------------------------------------------------------------------------------------
Hold My Body Down [ 1969]
Robert Johnson with Norma, Dorthy and Shirley Johnson - Vol. 27 - The George Mitchell Collection [45x7" boxed set] - 2008 - Fat Possum
K.C. Blues [1962]
Willie Shade - Vol. 33-
Old Hen Crackle [1969]
Georgia Fife & Drum Band - Vol. 34 -
Punky Tony [1967]
Como Fife & Drum Band - Vol. 35-
Roll & Tumble [1967]
Rosa Lee Hill - Vol. 38 -
Old Country Rock #1 [late 1970s]
James Davis - Vol. 43 -
Nighthawk Boogie [1967]
Robert Nighthawk - Vol. 44 -
Home Going [1967]
Jessie Mae Hemphill - Vol. 45 -