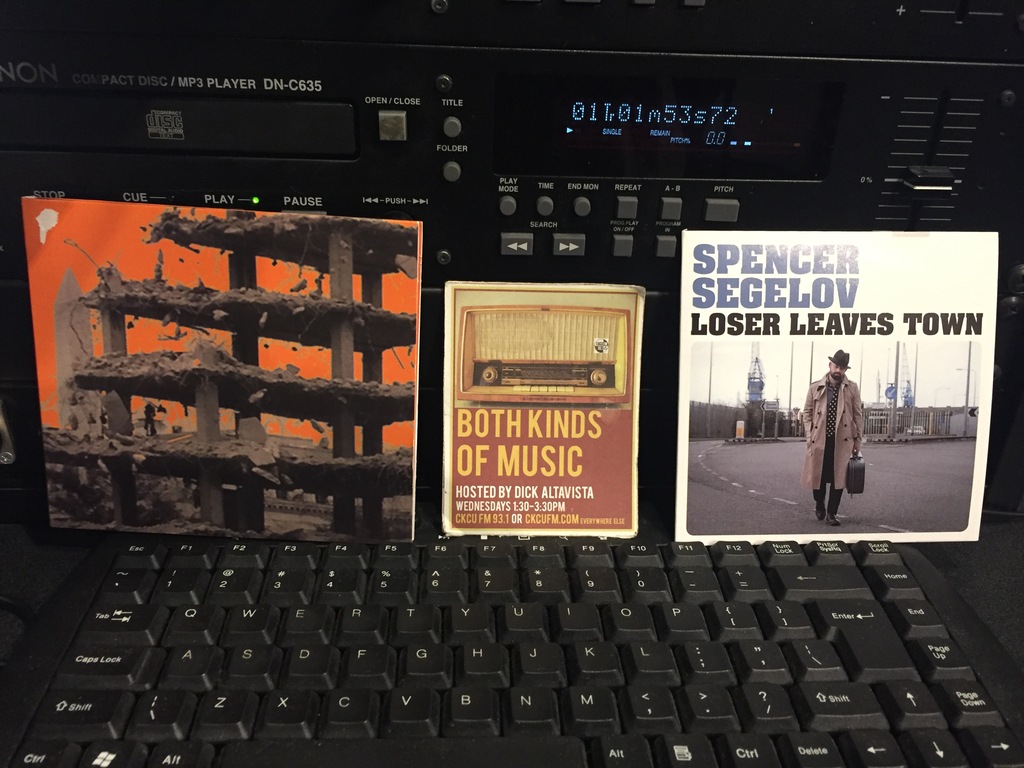 Both Kinds Of Music
Wednesday August 8th, 2018 with Dick Altavista
Back from holiday and playing SOCAN music!
Unfair Weather
Dot Dash - Proto Retro - The Beautiful Music

Stunt Dounle
Spencer Segelov - Loser Leaves town - Country Mile records

I'm In Love
Mr. Airplaneman - Jacaranda Blue - Sympathy For The Record Industry

Hopelessness
Courtney Barnett - Tell Me How You Really Feel - Mom + Pop

True Texan
Big State - The Stuff Of Legends

For Your Love
Sarah Sharp - Dreams

Hope You Understand
Kai Clark - Kai Clark
YA YA YA
Wave 21 - Wave 21


Don't You Know
Dusty Springfield - Just Dusty - Mercury
Afternoon's Gone Blind
Kelly Willis - Back Being Blue - Thirty tigers

Strange Country
Kacy & Clayton - Strange Country - New West records

Don't Look Down
The LYNNeS - Heartbreak Song For the Radio - Record Centre Records

Lonesome Friends Of Science
John Prine - The Tree Of Forgiveness - Oh Boy Records

Watermelon
Jerry David DeCicca - Time The Teacher - Impossible Ark

Den Of Sin
Jerry Leger - Some Folks Know

Deportee(Plane Wreck At Los Gatos)
Dave Alvin & Jimmie Dale Gilmore - Downey To Lubbock - YepRoc

All the following bands are playing Barnstorm 18 on August 25th in Finch. See you there.
Lost With You
KJ Thomas - Take The Detour

Brain Buffet
Evil Farm Children - II: The Evilling - Dad's Favourite Records

Lanark Double Soaker
Area Resident - Delano - Record Centre Records

Caffeine And Nicotine Nights
The Bushpilots - All The Little Things - Burning Canoe Music

Division By Zero
The Reverb Syndicate - Odyssey

Breakin' The Law In Bathurst
Slo' Tom And The Handsome Devils - 7" - Pretty Bad records

Greed For Green
No Problem Situation - 7' - Pretty Bad Records


Ontario
Jim Bryson - Somewhere We Will Find Our Place

Bad Old Days
Mayhemingways - Skip Land


What A Great Day
Jr. Gone Wild - Pull The Goalie - Stoney Plain

Yesterday, Am I Right
Gene Clark - Gene Clark Sings for You
Kapuskasing Highway Song
Grievous Angels - One Job Town - Stoney Plain

Year Of the Gun
Mark Ripp - Quiet Again

Sunday Best
Gentlemen Of The Woods - Radiance