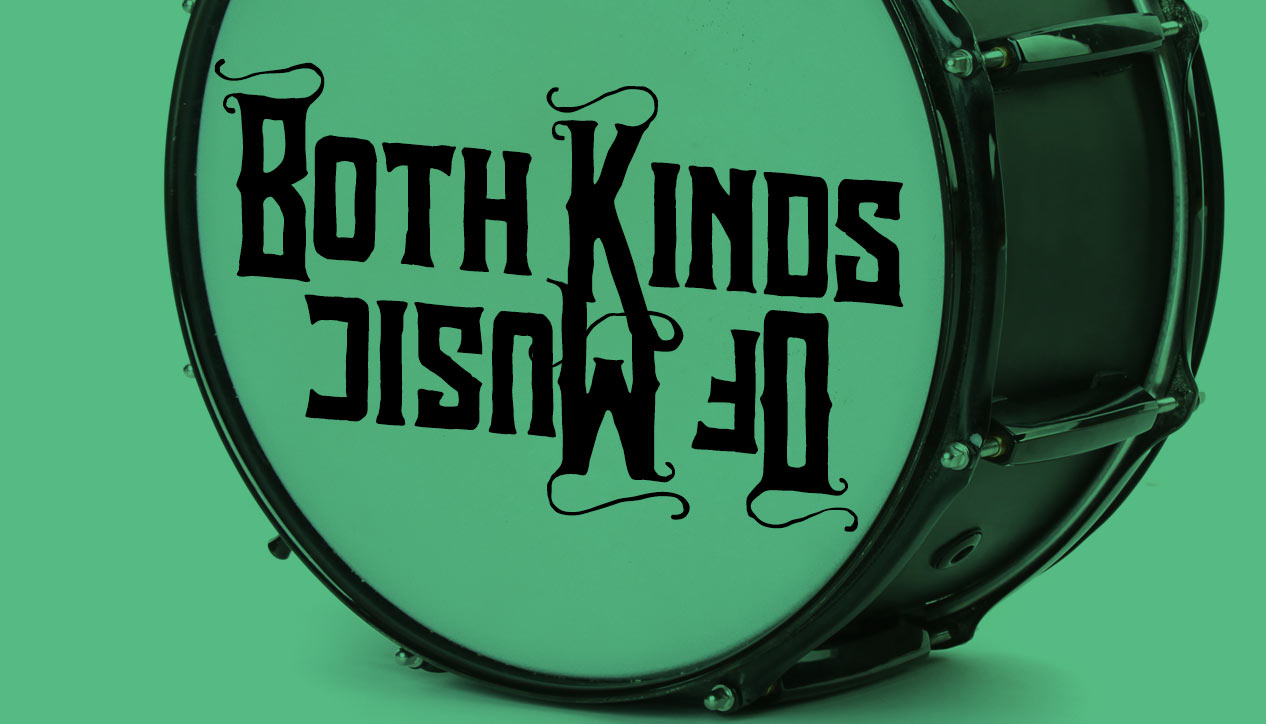 Debuting in 2005 Both Kinds of Music presents the best in local and international music that twangs and jangles.
Hosted by: Dick Alta Vista
Airs: Every Wednesday from 1:30 PM to 3:30 PM

Coming up at 1:30 PM on November 22nd, 2017:
Has NEW MUSIC from the band whose name is a symbol, The Yellow Melodies, Hiss Golden Messenger, Robert Kuhn, The Jerry Gross Organization, The Burning Ferns, Area Resident, Lydia Loveless, Oh Susanne, Courtney Barnett And Kurt Vile, Whitney Rose and The Striped Bananas. VINTAGE MUSIC from Richard Thompson, Mongo Santamaria, The Bongolian, The Beat Farmers, The Double Pumpers and Slow.
| Date | Host | Highlight | On Demand |
| --- | --- | --- | --- |
| Nov. 15, 2017 | Dick Altavista | RIP Fred Cole. Geeking out on The Nils with Jim Bryson and Chris Page. | available |
| Nov. 8, 2017 | Dick Altavista | Interview with Doug Hempstead | available |
| Nov. 1, 2017 | Dick Altavista & Jason Andersson | Funding Drive episode #2! | available |
| Oct. 25, 2017 | Dick Altavista & Jason Andersson | Funding Drive Show #1 | available |
| Oct. 18, 2017 | Jason Andersson | How about some TEENAGE HEAD as we remember Frankie Venom, new music from the combination of COURTNEY BARNETT and KURT VILE, some live music from NEKO CASE, and other random musical delights? | available |
| Oct. 11, 2017 | Dick Altavista | Interview with Gianna Lauren https:/​/​www.facebook.com/​events/​118937265343845/​ See The Forward Revue at The NAC Saturday Night | available |
Debuting in March of 2005 Both Kinds of Music is a guest friendly environment. Over the years I've had the pleasure of welcoming: Alice Kos, Bob Whitmore, Box Full Of Groundhogs, Brock Zeman, The Brothers Chaffey, The Bruitals, Bryce Jardine, Catriona Sturton, Chris Cook, Chris Landry, Chris Page, Chris Staig & Shelley Coopersmith, Colin Wylie, Conor Mercury, Dan Deslauriers, Dang Guilty, Dave Norris & Local Ivan, David Hustler, The Dead Bees, Elvyn, Enjoy, Your Pumas, Eric Gilmore & The Mad Hatters, Ev Laroi, Fist City, The Flats,  Gareth Auden-Hole, Greg Kelly, Huntley Slim & The Suburban Cowboys, The Jack Grace Band, James Leclaire, Jehan Khoorshed, Jessy Lindsay, Jon Kiely, Jon Laurie-Beaumont, Julie Element, The Jupiter Ray Project, Justine Vandergrift, Kara Askwith, Ken McKay, Kenny Voita, Kris Millett, Ken Workman, Kosta McKay, Lefty McRighty, Liz Foxx, Luther Wright, Mark Kiely, Mark Ripp, Mara McCallum, Marvin Etzioni, Matt Gower, Meredith Luce, M. Mucci, Morgan Friend, Mystery Pill, Nathan Hunter, Nicolai Dangeroso, Ninety Lbs. of Ugly, No Fly List, No Kinds Of Love, Norma MacDonald, Pamela Brennan, Patrick Shanks, Ray Harris, Riley Taylor, Robbie, Skitmore, Rob Snasdell-Taylor, The Rough Sea, Samantha Mouchet, The Shakey Aches, Shawn Tavenier, Slo Tom, Steph Clementine, Steve Judd, Steve Stacey, Steve Berndt, Still Winter Hills, Tindervox, The Train Jumpers, Trevor Alguire, Uncle Sean, Winchester Warm, The Woodrunners.
Both Kinds is proud to be sponsored by Dave's Drum Shop.
Please support local retailers!
"Weekends Are For Rookies" Live Recordings:

Tindervox - http://ckcufm.com/uploads/pod/wafr-tindervox.mp3
Mark Ripp - http://ckcufm.com/uploads/pod/wafr-ripp.mp3
No Fly List - http://ckcufm.com/uploads/pod/wafr-noflylist.mp3
Mystery Pill - http://ckcufm.com/uploads/pod/wafr-mysterypill.mp3
G Rogers - http://ckcufm.com/uploads/pod/wafr-grogers.mp3
The Elementals - http://ckcufm.com/uploads/pod/wafr-elementals.mp3
Dang Guilty - http://ckcufm.com/uploads/pod/wafr-dangguilty.mp3

Subscribe to Both Kinds Of Music