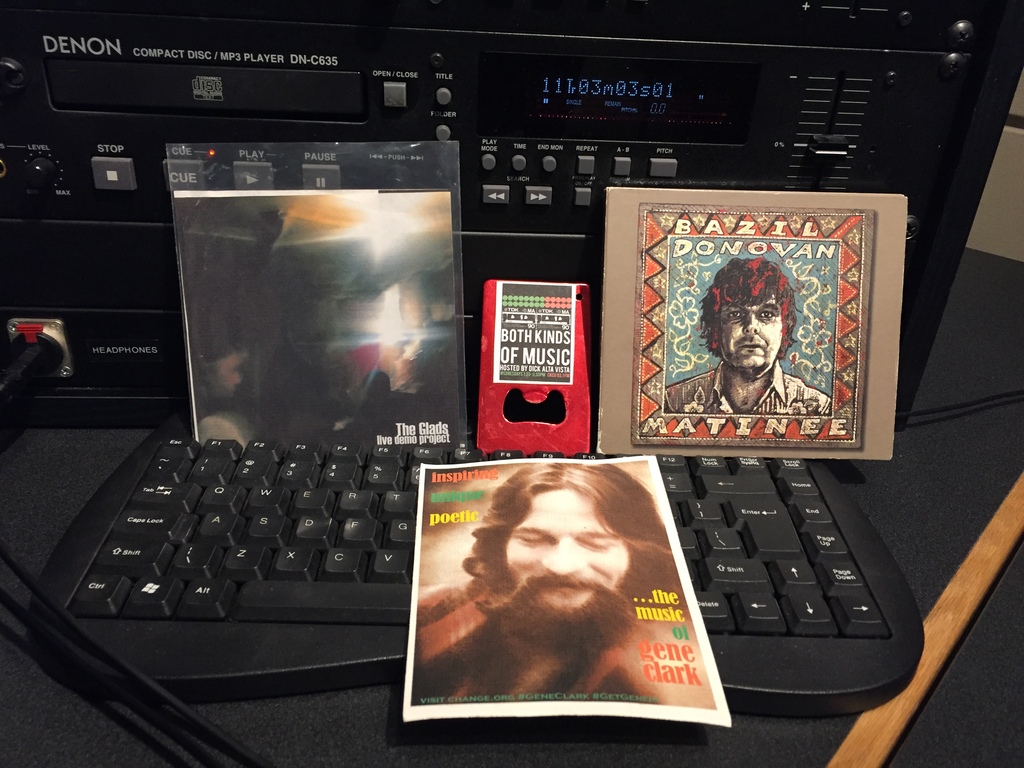 Both Kinds Of Music
Wednesday April 19th, 2017 with Dick Altavista
Happy Penultimate Illegal 4/20 smile!
Worry B Gone
Guy Clark - Workbench Songs - Dualtone
Too High (to talk to that guy)
The Glads - Live Demo Project

I Got Stoned And Missed It
Basil Donovan - Matinee - Telesoul Records

Blue Eyes
The International Submarine band - Warm Evenings, Pale Mornings and Bottled Blues - Raven
God Bless The Infidels
The Sadies - Northern Passages - Yep Roc


Sweeping Pt. 2
Jim Bryson - Somewhere We Will Find Our Place - Maple Leaf Music

Lost And Foregone
Jason Haywood - Floklore - JH


No More Quiet
Amelia Curran - Watershed - Six Shooter


Steets
No Fly List - Both Sides

She Can Stop Traffic
The Television Personalities - My Dark Places - Domino
Look Back In Anger
The Yellow Melodies - Holding Hands Under A Cloudless Sky - The Beautiful Music
Girl At The Bus Stop
The Yellow Melodies - Students Of Life - The Beautiful Muisc
In Your Time
Velvet Crush - Soft Sounds - Action Musik
I Can't Hardly Wait
Beaver Nelson - Austin TX. 'So What - Dis Twin
Unsinkable
Overnight - Carry Me Home

'Effin
Plumtree - Plumtree Predicts The Future - Label Obscura


Roll In your Sweet Baby's Arms
Gene Clark - The Lost Studio Sessions - Sierra Records

He Darked The Sun
Linda Ronstadt - Silk Purse - Capitol Records
The Day The Last Ramone Died
The Coal Porters - No. 6 - Prima Records

Deperadoes Waiting For A Train
Willie Nelson - This One's For Him: A Tribute To Guy Clark - Icehouse Music
Happy And Free
Colvin And Earle - Colvin And Earle - Fantasy

Driving Nails In My Coffin
The Country Rockers - Free Range Chicken - Big Legal Mess
Hole In time
Area resident - Area Resident


Rebel Kind
True Believers - True Believers
At War With Summer
Expanda Fuzz - 7"


What's Going On
Doughboys - When Up Turns To Down - Emergo

Aphasia
Pinegrove - Cardinal - Run For Cover
Career Opportuinities
The Clash - Sandinista - Epic
Kinky Hypocrite
The Drive-By Truckers - American Band

Fossil Funk
The Human Tripods - The Human Tripods - Lowertown Records