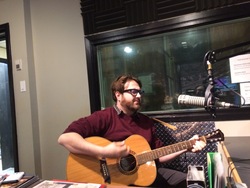 Both Kinds Of Music
Wednesday February 24th, 2016 with Dick Altavista
Ice Storm? So What!!!!!
See Jehan Khoorshed live at The Avant Garde this Friday.
Rockfort Psychedelion
Lee "Scratch" Perry - High Plains Drifter
Cloak A Dagger
The Upsetters - Blackboard Jungle Dub
Katy Didn't
Barrence Whitfield & the Savages - Under A Savage Sky

One More Try
Barrence Whitfield & The Svages - 7"
Very High & Mighty
The Whirleygigs - Gravity Rides Again
Pretty Persuasion
REM - Reckoning
Thirteen
Jen Lane - This Life Of Mine


Jewel
Lost And Profound - Goodbye Mine


Wayfaring Stranger
Lenne Klingaman - The Heart Is The Hunter

The Warmth Of The Sun
Matthew Sweet & Susanna Hoffs - Under The Covers Vol. 1
Just Like Blood
Sharon Van Etton - I Don't Want To Let You Down

When My Baby's Beside Me
Kelly Willis - Big Star Small World
Call Out
Jim Bryson - Somewhere We Will Find Our Place


Awake
Royal Ottawa - The World We Know


Down On The Farm
The Bushpilots - All The Little Things


Eat My Heart
Jehan Khoorshed - Single


Class of '13
Jehan Khoorshed - Live In Studio


Kenora
Jehan Khoorshed - Live In Studio


Back In My Bed
Jehan Khoorshed - Live In Studio

Reasons
Steve Stacey & The Stumpsplitters - tall Tales, Fibs & Outright Lies

Black Mark
Luther Wright And Thwe Wrongs - Hearts And Lonely Hunters


The Money Goes
The Reverend Peyton's Big Damn Band - Between The ditches
Before the Storm
Jerry David DeCicca - Understanding Land
The Bridge
Still Winter Hills - Late Night Souls