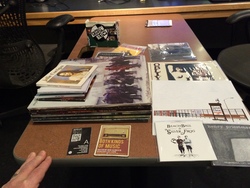 Both Kinds Of Music
Wednesday November 25th, 2015 with Dick Altavista
Great music plus and interview with Grrrr from IN HEAT.
Cold As Ice
Royal Ottawa - The World We Know


24 Hours From Tulsa
Yachts - Yachts Without Radar
We Used To Be You
Henry Priestman - The Last Mad Surge Of Youth
Late Bloomer
Jenny Lewis - Voyager

Jackie O
Skytone - Beach Ball & The Silver Frog

Treading Water
No Fly List - Both Sides A


Mike Kalinsky
Clem Burke - A Beautiful EP
Waiting On Love
Nicki Bluhm & The Gramblers - Loved Wild Lost

Down On The Farm
The Bushpilots - All the Little Things


Put Your Hands Up
Big Tobacco And The Pickers - The King Is Gone


Just A Sip
In Heat - Thrillborn


Interview with Greg "Grrrr" Harris of IN HEAT. They celebrate their debut release at Zaphods on Friday with The Hot Snake Handlers.
Smash Your face
In Heat - Thrillborn


Memphis Creep
The Oblivians - Six Of The Best
Hang Gliding
Saint Clare - Moving On


Spend My Lovin'
Julie Corrigan - The Language


This Property Is Condemned
Maria Mckee - Live At The BBC
Building Chryslers
The Bottle Rockets - South Broadway Athletic Club

Do As I Say Not As I've Done
James Leclaire - These Weights


Dead Mans Shoes
Brock Zeman - Pulling The Sword Out Of The Devil's Back


Senses Working Overtime
XTC - English Settlement
Take Me
GOOD2GO - C'Mon

Vampire Girl
The Bruitals - Won't Let You Down


Hunker Down
Chris Page - Volume Vs. Voice


Metal Girls
Jim Bryson & The Weakerthans - The Falcon Lake Incident

Burchard Von Worms
Shooting Guns - Barnburner


Drop By Drop
High Waters - Goodnight Mara