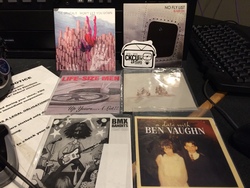 Both Kinds Of Music
Wednesday October 21st, 2015 with Dick Altavista
Long Sets pre funding drive!!!!
Mama, Look At Me Now
The Friggs - America's Only Rock And Roll Parody 10"
Wounds
Saint Clare - Moving On


Vampire Girl
The Bruitals - Won't Let You Down


4 Chords Away
No Flly List - BVlaze On

New Basketball
Life-Size Men - Up Yours ...A Lot!!


Tubular Balls
Banditas - Banditas

Vegan Zombie
Thunderuncle - demo

Little Hands
BMX Bandits - On The Radio
Two Mile Road
Ben Vaughn - A date With
Breaking The Law In Bathhurst
Slo' Tom & The Handsome Devils - I'm Sick

family In The Mansion On Parliament Hill
Slo' Tom & The Handsome Devils - single


Made Men
Mere Humans - This Is Rock And Roll


For Free
Motorpyscho - Phanerothyme
Lady Mary
the band whose name is a symbol - Masters Of The Mole Hill


The Astrologist
Highwaters - Gather Wish EP

You Don't Believe In Me
The Bushpilots - All The Little Things


Day Today
GOOD2GO - C'Mon

The Language
Julie Corrigan - The language


Be There
Kimberley Macgregor - I Am My Own
Dog
The Bottle Rockets - South Broadway Athletic Club

Here I Am
David Picco - Start Again