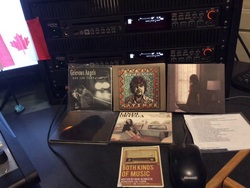 Both Kinds Of Music
Wednesday July 1st, 2015 with Dick Altavista
Happy Canada Day
Soupy Sales
Jim Bryson - The Ocasionals

Bleed The Real Estate Girls
Camp Radio - Camp Radio

Split Shift Heart Attack
The Fortunate Sons - Burned Again

Vampire Girl
The Bruitals - Won't Let You Down


Lovelost
The Randypeters - You Thought I Was Foolin'...

Cease To Breathe
Fluid Waffle - Fluid aWffle

cash
Chops & The Holics - Demo


Day Of The First Snow
Jr. Gone Wild - Less Art, More Pop

Kapuskasing Highway Song
Grievous Angels - One Job Town

That Look On Your face
Fiftymen - Fiftymen

I Got Stoned And I Missed It
Bazil Donovan - Matinee

Only Love Can Break Your Heart
Shannon Ross & Jack Pelletier - Live on Both Kinds Of Music

Blue About You
Chris Staig & The Marquee Playes - Shack By The Tracks


So Sad Lately
Trevor Alguire - Miles Away

Demons Don't Get Me Down
Lindi Ortega - Cigarettes & Truckstops

Make Your Move
Romi Mayes - Devil On Both Shoulders


Any Sense Of Time
The Inbreds - Kombinator

Ribbons
Adam West - Brunswick Hotel

Taller Than The Pines
The Sadies - In Concert Vol. 1

Song For Sahm
Four'N'Giv'r - Second Pyschle

I'm Spilling
Honest Injun - Honest Injun

OC/DC
Life-Sized Men - Up Yours A Lot...


Mo Maui
Thee Flaps - Again

Centretown Porch Sit
The Johnnies - 7" - Pretty Bad records

Late Nite Tales
G. Roger & The Capital Dominion Radiators - 7" - Pretty Bad records

Ruin Your Life
Idyl Tea - Idyl Tea

Bad Luck At Tulane
Jerry jerry & The Sons Of Rhythm Orchestra - Battle Hymn Of The Apartment

Deny, Deny, Deny
Joel Plaskett - Three

Martha
Andrew Vincent & The Pirates - I Love The Modern Way

Cannonball
The Dead Bees - 2

Overcome Girl
The Allrights - Goddamn The Good Old Days