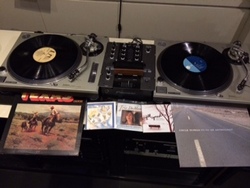 Both Kinds Of Music
Wednesday May 28th, 2014 with Dick Altavista
NEW JILL ZMUD, TREVOR ALGUIRE, WINCHESTER WARM, MARK RIPP, ANNE VRIEND. Vintage WILLIE NELSON, KINKY FRIEDMAN, JIM BRYSON, CHRIS PAGE and LEFTY MCRIGHTY.
Hello Walls
Willie Nelson - Texas Country
Sin City
Uncle Tupelo - Anthology
Sold American
Kinky Friedman - Sold American
Stay A Little Longer
Bob Wills & His Texas Playboys - Texas Country
Let The Mystery Be
Iris Dement - Infamous Angel
Passenger 24
Melissa McClelland - Thumbelina's One NIght Stand

Daddy Just Keeps Playing In The Band
Jill Zmud - Small Matters Of Life And Death


Rusty Old Strings
Trevor Alguire - Miles Away


Chris Issak
Lydia Loveless - Somewhere Else

Like An Anchor
Winchester Warm - Belle Attente


The next song goes out to Taryn and her son Townes who is turning 2!!!
I'll Be Here In The Morning
Townes Van Zandt - For The Sake Of The Song
Year Of The Gun
Mark Ripp - Quiet Again


All Hail Canada
Bidiniband - The Motherland


Glee
The Honeydogs - Everything , I Bet You
Drinkin And Driving
Lefty McRighty - Nashville Roadkille

Breaking The Law In Bathurst
Slo' Tom & The Handsome Devils - 7"

Sunday Drive
The Come-Ons - Sympathetic Sounds Of Detroit
Burning Holes In The Sun
The Steinbecks - Kick To Kick

Washboard take 1
The Poor Boys - Las Vegas Grind Volunme Six
Death By Vibration
Jim Bryson - Will The Bytowne Be Unbroken

S.O.S. for Sonny Boy
Chris Page - Most Career Hits

Greasy Tongues
Flecton Big Sky - Turn Up The Jets

Smells Like Awesome
The Flaps - Most Career Hits

Ladies, Ladies, Ladies
Andrew Vincent - A Short Trip With The Pirates

The Kerosene Clean
Rhume - Kelpmitzvah

In The Way
Ann Vriend - For The People In The Mean Time