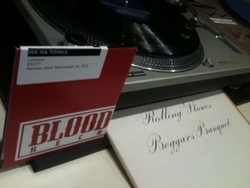 Both Kinds Of Music
Wednesday September 25th, 2013 with Dick Altavista
with Guest Steve Donnelly of the O-Town Hoedown
Thanks to Steve Donnelly for coming by to talk about the O-Town Hoedown which starts Friday at the Atomic Rooster. See you there!
No Expectations
The Rolling Stones - Beggars Banquet
Rosie
Tom Waits - Closing Time
Pied Pipers
Ha Ha Tonka - Lessons

You And Your Famous Friends
Ladies Of The Canyon - Diamond Heart


Life Of A Better Man
Slow Leaves - Second Chances


The First Five Minutes
The Sadies - Internal Sounds


Fire Is Burning
Screaming Bamboo - Break These Chains

Checking On My Baby
Heaven's Radio - Let's Active
Rock'N'Roll Resurrection
Jayne County - Rock'N'Roll Resurrection
Used To It
The Allens - The Allens

Looking for El Dorado
Dang Guilty - Tail Draggin'

Well Well Michelle
The Kingmakers - Last Night In Nashville

The Honky Tonk Life
The Bible All-Stars - Pretty Down There

Railway Killer
Ninety Pounds Of Ugly - Never Going Back

Cut Loose And Live
Christian D. And The hangovers - Child Of The East Coast


there she goes again
No Kinds Of Love - demo

Two Days Ago
Bushpilots - Swerve

Worries In My Pocket
Wild Vines - EP


Highway #9
James Leclaire - Until It Passes By

Riptide
Lynne Hanson - Once The Sun Goes Down

Late Night Tales
G. Rogers & The Capital Dominion Radiators - 7"


Hurricane Girls
Wild Seeds - Wild Seeds
High On Love
Hornettes - Hornettes


Local Girl
Neko Case - The Worse Things Get, The Harder I try

The Bridge
Still Winter Hills - Late Night Souls


Your Wasted Time
R.W. Haller - Wasted Time