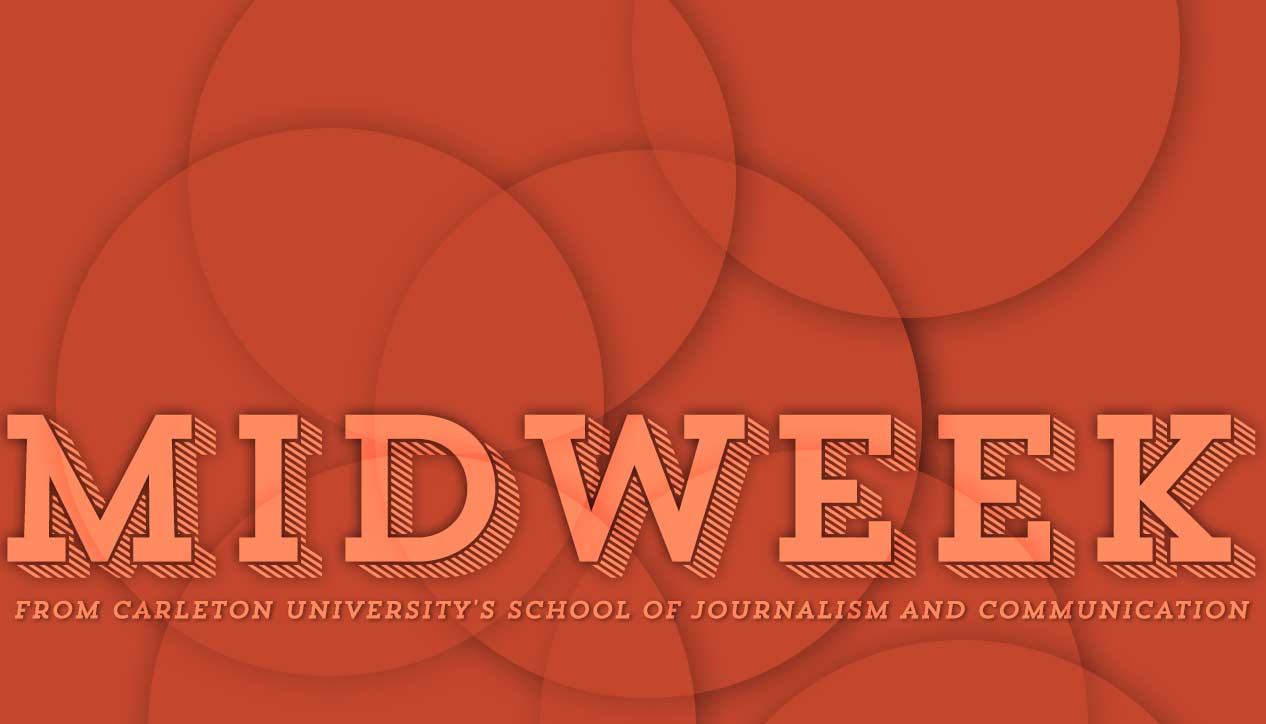 Midweek
Wednesday March 27th, 2019 with Astara van der Jagt and Dylan Parobec
Winter 2019 - Episode 7
April is just around the corner, and Spring is in the air… Wait … that's not Spring … that's … pot? Now the next question is, will Ottawa's pot shops open on April 1 as planned, or was it all just an April Fool's joke? Midweek's Hannah Berge spoke with a prospective neighbour of a new cannabis shop and found she was guardedly optimistic about what it might bring her business's stretch of street. Our news-hungry reporters also investigated a case of the munchies … or more specifically, the science behind why cannabis consumption seems to trigger a craving for food. Dylan Parobec, one of this show's hosts, spoke live with a professor at the University of Washington (Washington State, that is) about whether that's so — and if so, why. The weather is getting warmer in Ottawa, but that's not always a good thing. Melting snow means a greater risk of flooding and other sorts of damage, and Midweek's Hannah Berge reported on how the City is teaming up with the National Capital Commission to address this. Some proposed reactions to climate change prompt heated reactions of their own, as Astara van der Jagt (our other host) found out when she spoke on Parliament Hill with Ron Barr, general manager of the Greater Ottawa Truckers Association (top photo) about carbon taxes. Increases in rain and yo-yoing temperatures also spawn potholes, worsening roads and pathways that may already be less-than-best. Patrick Peori found out about a contest no one wants to win: Where are Canada's worst roads? Then there is the danger that springs have brought since humans survived their first winter scuffing through snow: thinning ice. Midweek's Joshua Weinberger got warnings about rivers, ponds and even ditches from the Ottawa Fire Service. And just because it's spring doesn't mean there aren't folks still out in the cold. Katherine Lissitsa found out about violence against women in emergency shelters, and our very busy Hannah Berge looked at the ongoing plague of overdoses in light of three deaths in one day in Ottawa this week. The internet has invaded all aspects of our everyday lives — and now it's after our things: Midweek's Kunqin Wang reported on how the advent of 5G networks will dial the Internet Of Things up to the next level. In other tech news, we heard how Google has announced plans to enter the world of virtual gaming, and visited the Sixth Annual Data Day gathering at Carleton University. But wait: Slow down. Enough with the tech. We also went old-school to learn what it is that geeks love about comic books and board games, and had story time with two locals who've written up Stittsville's haunted history. Other stories showing our timeless, classic, sophisticated refinement dealt with poetry, theatre, fine coffee and arm wrestling. Wait…what? Well, that's Midweek for you!
Mamaqtuq
The Jerry Cans - Nunavuttitut

Stages (Don't Know Why)
Busty and the Bass - Lift

Puxando Fogo
Marco Castillo - Brazilian Season

Any Other Way
Jackie Shane - Any Other Way