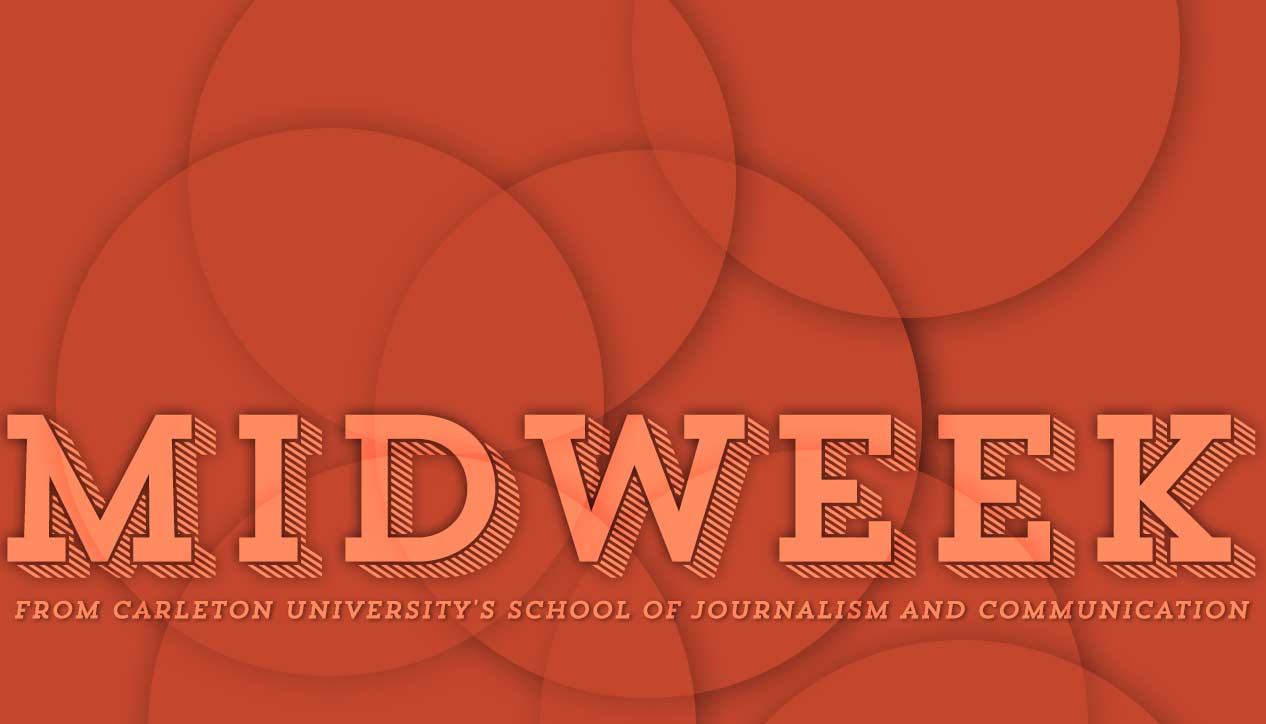 Midweek
Wednesday March 13th, 2019 with Jenn Colavincenzo and Levi Garber
Winter 2019 - Episode 5
We opened Midweek with heavy hearts this week as reporter Hannah Berge spoke with Kika Otiono, who all through her life had known and looked up to Pius Adesanmi, the Carleton University professor who died in the Ethiopian Airlines crash on Sunday. Otiono shared some of her memories of the close family friend whom she affectionately called "Uncle Pius." Other members of the Carleton community also came together to share their condolences with Midweek's Maz Atta, who visited a memorial for Adesanmi and other victims of the crash, including UN workers and Ottawa natives Stéphanie Lacroix and Jessica Hyba. Some reflected on how awful "news" of this kind usually seems so far-off — but not this time. They spoke of what this loss so close to home has made them think about, including how instantly losses can come and how precious every moment is. "It's big," said one. "It feels big." Other stories on this show also dealt with bringing the far-away up close. Kunqin Wang reported on an event in Ottawa to demonstrate how hard just obtaining clean water is for so many, with girls and women in the developing world having to walk an average of six kilometres a day to find it and lug the heavy load home. As the UK parliament was voting yet again on what to do next in the breakup with the European Union, we spoke with CBC's Thomas Daigle and an EU politics expert at Carleton about the odds on whether this Gordian Knot of tariffs, borders and immigration will ever get unloosed — or is a noose. Meanwhile, politicians in Canada are once again facing up to tragic policy mistakes of the past: We spoke with an activist and a lawyer about the newly announced compensation for Indigenous people abused in so-called "Indian Day Schools." Looking forward, we also heard about the Ontario government's continuing efforts to sort out how to fund the treatment and education of children with autism in the province. Ash Abraham brought us a documentary about one couple sharing their experiences as parents of a transgender child and how their not-average family life is actually…well…pretty ordinary after all. We then heard debate over the practicality of the Ontario government's newly announced ban on cellphones in classrooms, a "Filthy Dirty Art Show" at a local sex shop, and the outlook for this year's Bluesfest here in Ottawa. If we're talking summer music festivals already, can spring be far behind? Seems it's on its way — and that's a classic good-news/bad-news story…or series of stories, in our case. Reporter Patrick Peori told us about his visit to an authentic homesteader sugar bush in Nepean where the tree sap is starting to flow, a sure sign that that the days of long johns and wool socks may soon be behind us. But as the sap thaws, so do this year's mountainous snowbanks and the thick ice on the city's rivers…and sidewalks…and parking lots…and roads… Reporter (and host) Levi Garber walked us through the precautions experts suggest to protect Ottawa homes from flooding in the spring melt, which is sure to create an awful mess of mud and slush. Spring has a way of cleaning up its own mess as it progresses — but who cleans up a crime scene after investigators have gathered their evidence, or after someone leaves a "hoarding" house behind? Dean Lemens, the Ottawa-based extreme cleaner, that's who. Midweek's Jane Skrypnek spoke with him about his less-than-glamorous job. Perhaps unsurprising, he said, there aren't too many others willing to do the tidying up. And what could be a better way to unwind at the end of a hectic show than to take a big ol' friendly dog out for a walk? Midweek's Lisa Johnson took us along in a documentary about a professional dog walker who has turned that routine task into practically a science as she studies her clients and figures out what's right for each of their outings. The dog-walker described spring as a vast buffet of smells for a dog — just as Midweek shows like this one are buffets for the ears and the brain: Just about all of life, right here in one radio show.
Kae Sun
Treehouse - Whoever Comes Knocking

ODIE
Phenomenon - Analogue

K'naan ft. Nelly Furtado
Is anybody out there - Country, God or the Girl