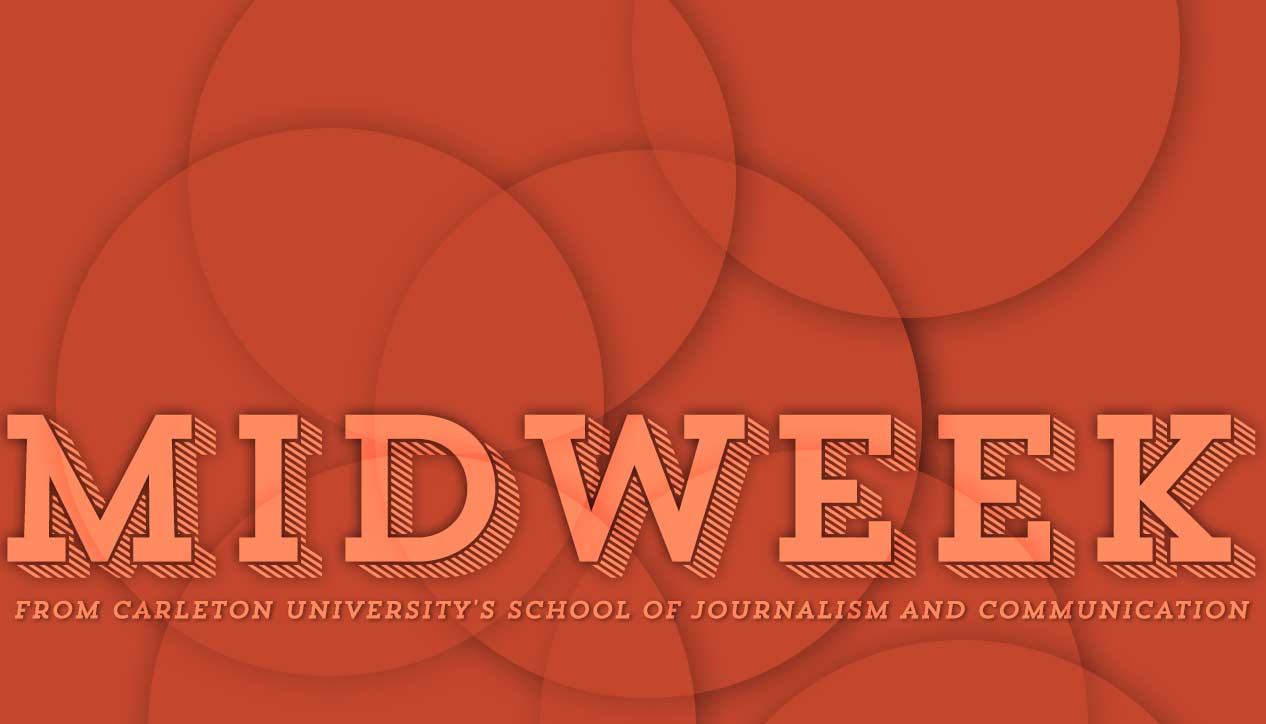 Midweek
Wednesday March 6th, 2019 with Patrick Peori and Katherine Lissitsa
Winter 2019 - Episode 4
We'll admit that our reporters' attention was a little divided during this week's Midweek production… Eyes and ears kept getting pulled to the corners of screens and the livestreaming of testimony by the Prime Minister's former right-hand man before a House of Commons committee, but by noon the team had hunkered back down to put on another solid show. Four down, five Midweeks left this season. Midweek covered those accusations swirling around Parliament Hill about a coverup in the SNC Lavalin case by speaking with a wise Hill-watcher about what the scandal may mean — but we also delved into another citywide coverup happening in Ottawa … being carried out by young artists all over town. Midweek's Patrick Peori drew us a picture of Paint it Up, a local movement in its 10th year that aims to cover up and dissuade graffiti on empty walls in Ottawa by encouraging young people to paint murals on them instead. Also in the show, reporter Joshua Weinberger tracked down the latest on LRT Stage 2, while Stage 1 has been delayed yet again. He told us how, on the west end of the winding track of transit developments, a sudden change to a station in Westboro has left residents cautious but still excited for the expansion of the light rail system. Back downtown, Midweek's Olivia Robinson read into the question, to "shh" or not to "shh"? Despite it being a library meeting about a "super" library that would merge Library and Archives Canada with the new Ottawa Public Library Central Branch, Ottawa residents were vocal in their opinions on proposals that may include, of all things, a zip line! Speaking of reading, have you read the story of tech tycoon Elon Musk and moon-walker Neil's Armstrong's intimate encounter? Probably not, because it didn't happen. But that didn't stop amateur author Andrew Kellie from writing about it for March's Monday Night Fan Fiction event in Ottawa. Midweek's Jenn Colavincenzo listened in to bring us the story behind the stories. Other stories this week told us about proposals for a national drug agency to handle the big picture of pharma-care, and a bill to give Indigenous communities control of their own child welfare services. And we looked at how more and more young people are Bumbling into new friendships (a new way — there's now an app for it, apparently). We also went inside the experience of living with auto-immune diseases, a weekly Friday protest over climate change on Parliament Hill, and how underground artists are injecting life into the city's art scene. We also looked at whether the latest revelations about Michael Jackson could kill off affection for the art he produced through his career. The Friday following this Midweek is International Women's day, and show co-host Katherine Lissitsa gave us a report on how the day is spurring discussions on a long list of issues among groups at Carleton University. Then Katherine surprised us with another one on how women at the local Beyond the Pale brewery are saluting the day by launching a new beer, in part to raise money for a local women's shelter. The new brew is a gin barrel-aged saison, meaning it's a spicy, fruity, frothy pale ale. The brew is being called Hymn to Ninkasi — an ode to the Sumerian goddess of brewing and beer. Oh — and an outlook interview on the prospects for the Carleton Ravens men's basketball team at this year's national championships in Halifax. That live interview succeeded in setting what must be a new world record for the number of basketball puns ever crammed into one single radio script — and was completed by our reporters right at the final buzzer. Slam dunk, done!
Relentless
Arkells - Rally Cry

There's Still A Light In The House
Valley - Maybe

Voices
Final State - Final State

Dreams Tonite
Alvvays - Antisocoalites