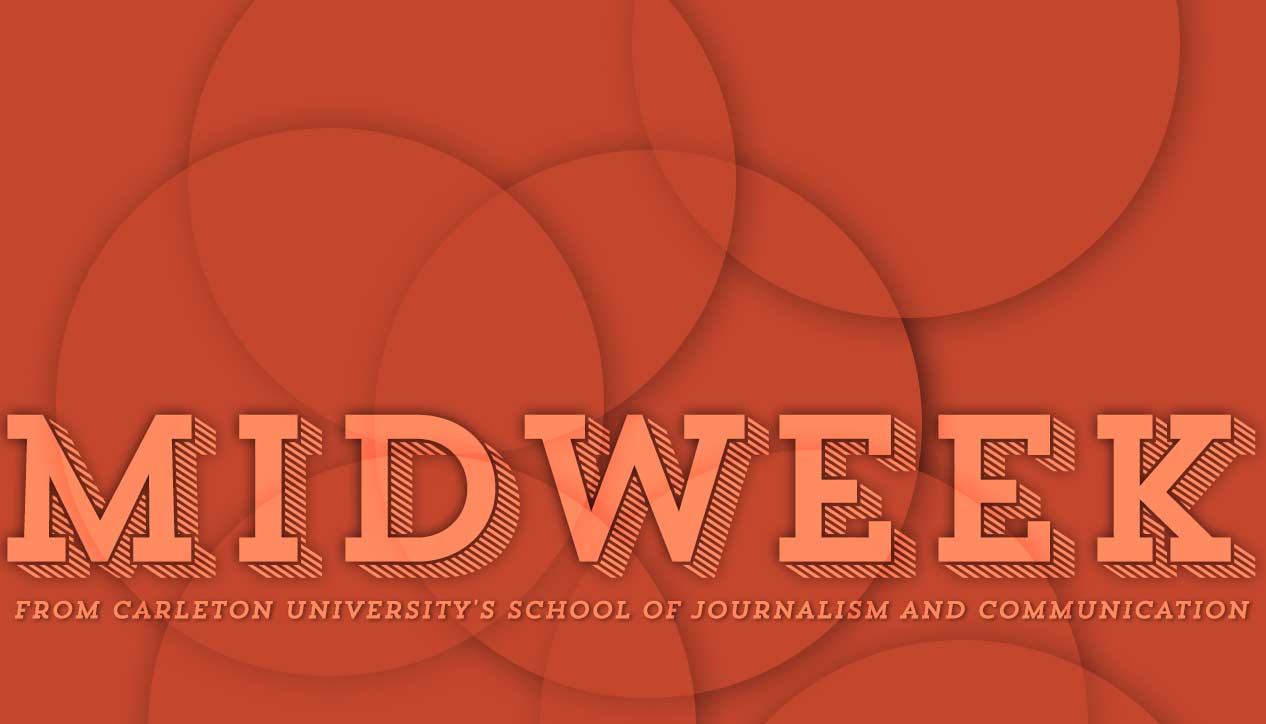 Midweek
Wednesday November 15th, 2017 with Hamzia Bawa-Zeba and Jordan Steinhauer
Our seventh show of this season, hosted by Hamzia Bawa-Zeba and Jordan Steinhauer, was our usual eclectic Midweek mix: hard-edged stories about dangerous drugs, housing regulations and men's health, but also trips around town to an Indigenous film fest, a
Not to mention Olympian pole dancing, a canine kitchen, a lending library for musical instruments, and…goat yoga. No kidding: goat yoga. That last story set off a chain of unforgoatable puns about this edition of Midweek, which opened with a fan-tache-tic Movember update that introduced an Ottawa organizer explaining how it all got going. Movember mustaches can be comical, but there's nothing funny about the very real health issues behind the campaign. It's also serious out on the streets, where Midweek reporter Arvin Joaquin met a young opioid addict who told us how low he'd fallen, how he'd lost friends, and how he was now determined to set himself straight and once again earn the trust of his family. Midweek's Emily D'Orazio looked into reports that women have less chance of receiving life-saving CPR than men and found out from a senior lifeguard that while a patient's dignity is important, keeping them alive matters more. Speaking of dignity, Carly Pickett reported back that pole dancers deserve lots more respect, because their routines are actually a demanding athletic feat being considered as an Olympic sport. Reporter Caitlin Gallipeau found out about Wapikoni, an innovative mobile Indigenous film-making project, and Karen-Luz Sison looked into efforts to save dying Indigenous languages seen as vital to the cultures of those who speak them. Midweek reporter Tamara LaPlante moonlights with Carleton University's Sock'n'Buskin theatre company and took us inside the troupe's "tech" rehearsal for this season's first production: The Brothers Grimm Spectaculathon. Then Hamzia Bawa-Zeba took us into a different kind of tech: the ballooning gaming industry and the folks in it with big dreams. Midweek's Kat Topinka toured local artist Drew Mosley's show in Westboro and found out from him about his "Rebellious Nature" (spoiler: rabbits feature in a literally big way). Liam Harrap watched humans fall for pets and dogs take a dive at the Ottawa Pet Expo, where he also found out about a canine kitchen making bacon and peanut butter 'pupsicles'…which are apparently the cat's meow. Which reminds us: goats — Midweek's Carly Pickett visited Maple Hill Urban Farm to partake in its new goat yoga class…which involves…yoga…and goats. Just listen to the story. It's a baaaah-utiful piece. Yup: there was all that and much more on the Wednesday, Nov. 15, 2017 edition of Midweek.
There are no tracks in this playlist.