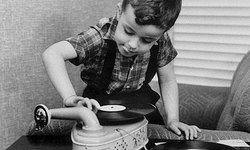 Midweek
Wednesday September 3rd, 2014 with PeterB
Just a whole lota great tunes! Less yacks, more tracks.
OK, this week's episode again features a total lack of theme. Less yacks, more tracks. Plenty of big beats, theme wandering, and a touch of the ol' dysfunctional. And, WELCOME to any new listeners -- fresh students, returning ones, new to Ottawa … whatever your reason! We hope to convince you that community radio is cool, and important, especially CKCU. Well, and totally beats the heck outa that boring programmed-by-robots commercial radio crap. Enjoy. And KEEP IT LOCKED to CKCU, "The Mighty 93".
JUST ONE GIANT SET!! Hang on to your hats.
Live Circus
Tom Waits - Glitter and Doom
Pinky's Dream (ft. Karen O)
David Lynch - Crazy Clown Time
Pendulum
FKA twigs - LP1

To Care (Like you)
James Blake - James Blake
Kicks
FKA twigs - LP1

Ud the Doudouk
Martyn Bennett - Bothy Culture

Rivers of Dub
Asian Dub Foundation - Frontline 1993-1997 Rarities & Remixes
Stir Crazy
Grand Analog - Metropolis Is Burning

Kingdom Come
Souljazz Orchestra - Inner Fire

Soul Pride
Neptune (PC and Jason Swinscoe of The Cinematic Orchestra) - Xen Cuts (disc 2)
Different Heroes (ft. Northern Voice)
A Tribe Called Red - Nation II Nation

Caustic
Roberta Bondar - Caustic EP


If
Pink Floyd - Atom Heart Mother
Tom Tales
Tom Waits - Glitter and Doom