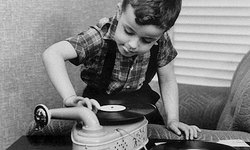 Midweek
Wednesday August 13th, 2014 with PeterB
Theme? What theme?!
Themes are for wimps! Today's adventure ranges from scratchin' weirdness, to funk, India, hard rock, to political. And of course LOTS of big beats. Hang on to something.
Funky magic and weirdness to start the show…
Music for Morning People
Kid Koala - Carpal Tunnel Syndrome

Drunk Trumpet (Live at The Metro, Chicago)
Kid Koala - Xen Cuts

Zombie Delight
Buck 65 - The Lost Tapes- 20 Odd Years, Vol. 1

Dubby Jointy (Fatboy Slim Remix)
Fatboy Slim / Psychedeliasmith - Signature Series, Vol. 1: Greatest Remixes
The Chong Show
George Clinton / Bootsy Collins - Go Fer Yer Funk
A brief visit to South Asia, via Scotland and Canada. What could go wrong? A momentary blessed relief …
The Happy Track
Delhi 2 Dublin - Live


The Evolution
Delhi 2 Dublin - Live


Magudi
Autorickshaw - The Humours of Autorickshaw

Snake Charmer
Autorickshaw - The Humours of Autorickshaw

OK. Let's get HEAVY... Turn it up!!

Notice: "The political, religious, sexual and/or other views expressed in parts of this set may or may not reflect the official views of CKCU, its staff, or volunteers. But probably."
Willie the Pimp (feat. Captain Beefheart)
Frank Zappa - Hot Rats
Burstedman
Mike Watt - The Secondman's Middle Stand
Palm Bay
Roberta Bondar - Caustic EP


Prest-O Change-O
Five Alarm Funk - ABANDONEARTH


Give It Up
Public Enemy - Muse Sick-N-Hour Mess Age
Don't Give Up the Fight (feat. Ziggy Marley)
Public Enemy - The Evil Empire of Everything
Exit, stage left ...
Pa' Gozar
Spanish Harlem Orchestra - Un Gran Dia en el Barrio